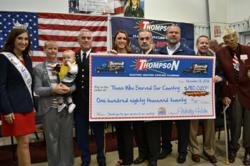 Cincinnati, Ohio (PRWEB) November 16, 2012
Thompson Electric, Plumbing, Heating and Cooling, a company that has raised over $180,000 since 2009 to support veterans hosted its 4th annual Veterans Day Celebration today at its company headquarters.
The firm presented a check in the amount of $55,010 to Marc Burgess, Executive Director of the Disabled American Veterans National Headquarters. The DAV is a non-profit organization dedicated to the service of our nation's injured heroes.
In addition, Thompson presented a check for $10,000 to Marian and Adolfo Olivas, customers of Thompson, whose son, Army Cpl. Nicholas H. Olivas, was killed in the line of duty this year at Zharay, Afghanistan on May 30, 2012, while serving Operation Enduring Freedom. The Olivas family will donate the check their chosen charity, the Fisher House Foundation.
Thompson's employees donated $7,000 in savings bond to Cpl. Olivas' son, Connor.
The Veterans Day Breakfast and Celebration featured guest speaker Lt. Col. Brad Wenstrup, who is an Iraq War veterans. Wenstrup was recently elected as Ohio's 2nd congressional district in the United States House of Representatives.
In keeping with the company's ongoing commitment to serve the community and veterans, Thompson launched its Fourth Annual Veterans campaign on August 1, 2012, raising over $65,000 this year. Thompson thanks the overwhelming support of their loyal Cincinnati and Northern Kentucky customers that have helped raise more money this year for veterans than ever before.
About Thompson Electric, Plumbing, Heating and Cooling
Thompson Electric, Plumbing, Heating and Cooling has been providing electric, plumbing, drain cleaning, heating and cooling repair and installation and service to Greater Cincinnati and Northern Kentucky for over 80 years. Thompson is dedicated to providing National Award Winning Service. Thompson's clients receive upfront pricing and guarantees on all work performed. Thompson is open seven days a week, from 8 to 8, no overtime!
Call 513-333-HELP (4357) for more information or go to http://333help.com/veterans/.