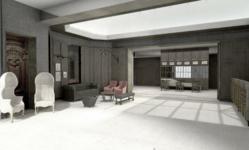 New York, NY (PRWEB) November 15, 2012
Hotel Belleclaire is just weeks away from revealing its newly renovated lobby and game room. After months of hard work, the New York City hotel will unveil its redesigned public spaces December 21, 2012. The reconfigured spaces will feature a stunning skylight, espresso wood paneling, a regal chandelier, mosaic tile, comfortable lounge seating, a game room and a full-service bar.
The renovations will add tastefully modern design elements to the luxurious backdrop provided by the Upper West Side hotel's elegant 1903 building. The 40-foot skylight will allow warm, inviting sunlight into the lobby, while the shimmering circular chandelier will add a touch of signature New York City luxury. The renovation also will add guest-friendly features such as a game room and a bar with food service. The game room – complimentary for hotel guests – will include two arcade systems with 10,000 games, and three iMacs for convenient computing.
"This renovation project augments Hotel Belleclaire's classic style with a dash of contemporary luxury," said Adisa Feratovic, Director of Sales & Marketing. "In addition to the aesthetic changes and design updates, we are adding a number of guest-friendly features to transform the hotel's public space into a gathering place. With a full-service bar serving delicious food and a game room with computers and arcade stations, these renovations will make Hotel Belleclaire a destination in its own right."
Improvements and new features at Hotel Belleclaire:
Complete lobby renovations
- 40-foot skylight
- Large circular chandelier
- Espresso wood paneling
- Mosaic tile restoration
- Comfortable lounge seating
Full-service bar with food service
- Breakfast
- Lunch
- Dinner
- Drinks
Game room (complimentary access for guests)
- Two arcade stations with more than 10,000 games and multi-player options
- Three 27-inch Apple computers
- Mini-milk desks with attached fish tanks (designed by Soren Rose)
Guests can learn more about the renovation project by visiting Hotel Belleclaire on Facebook or http://www.hotelbelleclaire.com.
About Hotel Belleclaire:
Hotel Belleclaire is a member of Triumph Hotel Group, a collection of sophisticated New York City boutique hotels. Located on the Upper West Side, Hotel Belleclaire is in a landmark building designed by Emery Roth in 1903. Hotel Belleclaire's 230 guest rooms and suites feature an array of deluxe amenities, including free Wi-Fi access, Gilchrist and Soames bath products, luxurious Frette linens, flat-screen HD TVs, and sleek laminate-wood floors. The hotel, which features a newly renovated lobby and complimentary game room with Apple computers, also offers morning coffee and tea service, 24-hour fitness center access and premier concierge services.