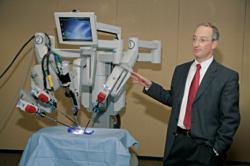 Westchester County, NY (PRWEB) November 15, 2012
Northern Westchester Hospital announced today that a medical team, led by Dr. Warren Bromberg, became the first in Westchester County to successfully perform a robot-assisted partial nephrectomy using a sophisticated da Vinci Si Surgical Robot equipped with a high-definition, 3D camera system and fluorescence imaging technology.
During the minimally invasive procedure, patients receive a special dye that "illuminates" the tumor site and surrounding blood vessels when exposed to near-infrared light. This enhanced view enables the surgeon to clearly see the margins between the healthy and diseased tissue, better enabling them to completely remove the diseased tissue while keeping the healthy tissue intact.
"Through the enhanced view provided by the high definition, 3D camera and fluorescence imaging, we are able to perform precise, minimally invasive surgery that enables us to spare the maximum amount of healthy kidney tissue. The imagery is so precise that we can temporarily stop blood flow to the section of the kidney needing treatment, while not impacting blood flow to the rest of the kidney," stated Warren Bromberg, MD, Co-Director of the Institute for Robotic and Minimally Invasive Surgery at Northern Westchester Hospital.
Surgeons at the Institute for Robotic and Minimally Invasive Surgery at Northern Westchester Hospital perform robot-assisted gynecological procedures such as hysterectomy; urologic procedures, such as prostatectomies; and general surgery procedures, such as colorectal surgery. With the acquisition of a second robotic platform and the experience of more than 1,000 surgeries performed, the Institute provides patients throughout the Westchester County area with highly advanced minimally invasive surgical options
About NWH
Northern Westchester Hospital (NWH) provides quality, patient-centered care that is close to home through a unique combination of medical expertise, leading edge technology, and a commitment to humanity. Over 750 highly skilled physicians, state-of-the-art technology and professional staff of caregivers are all in place to ensure that you and your family receive treatment in a caring, respectful and nurturing environment.
NWH has established extensive internal quality measurements that surpass the standards defined by the Centers for Medicare & Medicaid Services (CMS) and the Hospital Quality Alliance (HQA). Our high quality standards help to ensure that the treatment you receive at NWH is among the best in the nation. For a complete list of our services, please visit http://www.nwhc.net.
Contact:
Mark Vincent
Northern Westchester Hospital
914.666.1200