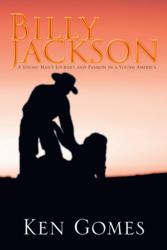 You will feel what it was like to be on a cattle drive and then the migration from the Midwest to the West Coast
Portland, Ore. (PRWEB) November 15, 2012
As a fifth generation Californian and previously published author, Ken Gomes draws upon his heritage to craft the new coming of age story, Billy Jackson.
Having lived in the valleys, mountains and hills of America, Gomes says he drew from real events, historical anecdotes and personal memories to form the plot.
Billy Jackson tells the story of a young Texas lad who grew up on a small farm in the mid-1800s, dreaming to explore America. Billy's journey eventually finds him in San Francisco, where he connects with an old Californian family, meets the love of his life and his life forever changes.
Gomes tells the intriguing story of action, adventure and romance in the hopes of teaching readers about America's past and life in general.
"You will feel what it was like to be on a cattle drive and then the migration from the Midwest to the West Coast," Gomes says. "What it was like to be both poor and rich in California during the mid-1850s for both the Caucasians and the Hispanics."
Written for teenagers and adults, Gomes' work paints a colorful portrait of a boy and a country destined for greatness.
Billy Jackson: A Young Man's Journey and Passion in a Young America
By Ken Gomes
ISBN: 978-1-4772-5223-9
Approx. 329 pages
Paperback 6 x 9
Retail price: $23.95
About the author
Ken Gomes is a fifth generation Californian with additional Texas roots. He attended high school and college, but is self-taught when it comes to writing. Gomes has had a successful career in sales and management and has published several trade manuals. Following the settings of his book, Gomes has lived in the valleys, mountains and hills of America where events described in Billy Jackson actually occurred.