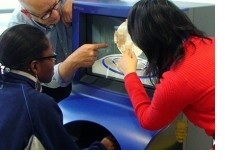 (PRWEB UK) 16 November 2012
On 8th-9th November, Probos will be unveiled at The Museums' Association Conference and Exhibition 2012 in Edinburgh. Probos is the world's first interface that allows museum visitors to virtually "touch" and examine precious artefacts. Probos, which was designed by Touch & Discover Systems, will be in action in the Cromdale Foyer at the Edinburgh International Conference Centre. The Museums' Association Conference is the largest gathering of museums and heritage professionals in Europe with over 1,500 senior staff who use the event to discuss the latest issues, learn about best practice, and meet the world's leading suppliers and consultants.
Developed with funding from the Stavros Niarchos Foundation and in collaboration with Manchester Museum, Probos has just been unveiled in Manchester Museum's redesigned Egyptian Gallery, the "Ancient Worlds". It offers a selection of objects from a digitised catalogue which can be explored to reveal their physical qualities, attributes and history. Probos has already been found to be beneficial to blind and visually impaired users and has fascinated trial groups, most especially children. So far, Manchester Museum has digitised three of its artefacts: a Greek jug, dating from circa 500 B.C.; a terracotta bowl, surmounted with hippopotamus figures, dating from circa 5,000 B.C.; and an Egyptian figurine, or Shabti, dating from circa 380 BC.
Using a controller that is held in between the fingertips, the user is encouraged to explore the surfaces, shapes and sounds of ancient objects that are usually inaccessible in glass cases. Haptic technology draws on force feedback to create resistance to touch, tricking the mind into the sensation of touching a real object. , Virtalis a world leader in Virtual Reality (VR) systems, is a stakeholder in the company which has developed the Probos and has also collaborated on its software development alongside Freeform Studios, experts in haptics and digitising objects.
"We are deploying a 3D multimedia interface combined with haptics to tell the story of each object and bring a new experience for visitors to the gallery and other venues", said Christopher Dean, director and founder of Touch & Discover Systems. "Explorers of the 5,000 year old hippopotamus bowl, for example, can not only feel the hippos, but also the crack that runs along the centre of the bowl. It even sounds cracked when you tap it. – something you wouldn't dare do in real life! Ultimately, we hope to digitise objects from collections all over the world, bringing virtual objects within reach of new audiences. We have also developed a portable version of Probos, so museum masterpieces will be able to travel to schools, colleges, universities and remote communities as part of outreach and accessibility programmes."