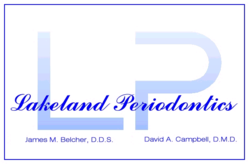 Lakeland, FL (PRWEB) November 15, 2012
Lakeland Periodontics is using the Laser Assisted New Attachment Procedure protocol to treat patients who suffer from gum disease. Millions of adults around the country suffer from gum disease and many of them are not seeking treatment. The new periodontal disease treatment procedure uses a laser rather than a scalpel and patients experience little pain or discomfort. In addition, sutures are not required to hold the gums in place after the surgery, so healing time is relatively short.
Dr. James Belcher and Dr. David Campbell of Lakeland Periodontics have joined a relatively small group of dental professionals that are fully trained and certified on the LANAP. They provide patients with the periodontal disease treatment that is necessary to bring a patient back to good oral health. When a person has gum disease they can experience many dental issues, including bleeding gums, bone disintegration, receding gums and even tooth loss. Therefore, they can be at a higher risk for health problems such as diabetes or heart issues. Oral health is an important factor in a person's overall health.
Utilizing the new LANAP procedure, Dr. Belcher and Dr. Campbell gently remove both the bacteria that cause the disease and the unhealthy gum tissue that has been compromised by the disease. At the same time, the laser is not absorbed in water, bone, root or healthy gum tissue. In fact, the laser will stimulate clotting so that the gums will reattach to the teeth roots and the bone around the teeth is bio stimulated to regenerate.
Because the LANAP procedure is less invasive and highly effective, the dentists at Lakeland Periodontics hope more patients will actively seek out the treatment that they need. If gum disease is allowed to progress unchecked, there are many health complications that can occur. By seeking treatment early, a patient can stop the disease process in his or her mouth and drastically improve their dental health. For more information about periodontal disease treatment, visit http://www.lakelandgumsurgery.com.
Lakeland Periodontics is a periodontal practice offering patients personalized dental care in implant dentistry for Lakeland, Florida. Dr. James Belcher and Dr. David Campbell are both certified periodontists with years of training and experience in dentistry. Their practice is part of one percent of dental professionals providing the most recent FDA cleared laser procedure for gum disease and periodontal treatment. Lakeland Periodontics is a practice limited to Periodontics and dental implants. To learn more about Lakeland Periodontics, their dental services and dental implant cost, visit their website at http://www.lakelandgumsurgery.com and call (863) 594-1351.