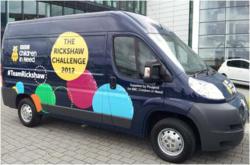 (PRWEB UK) 14 November 2012
IT'S that time of year again when Pudsey the bear returns to the TV sets in earnest as TV celebs and the general public do fantastic fundraising efforts for BBC Children in Need.
They were planning to see the new Bond movie Skyfall on Friday night but that's just been shelved by Mrs and Miss M for a night watching the BBC Children in Need Special.
For them it's always good fun (although they shall not be joining them for the whole night – there's a rugby match at Harlequins that evening too, and they wouldn't want to waste their season ticket….)
However, they will make sure they look out for BBC One Show presenter, Matt Baker, who is looking to complete the second BBC Children in Need 'Rickshaw Challenge'.
And he's doing it with the backing of Peugeot Vans.
Those good chaps from Coventry have provided Matt and his team with a brace of business vans – an Expert and a Boxer – along with a Boxer Motor Home, and three Peugeot 508 RXH cars.
The vans will be aiding Matt as he takes his 'Team Rickshaw' Challenge on a 411 mile route, having started on Friday 09 November at Llandudno in North Wales with a planned finish on telethon day – Friday 16 November – as 'Team Rickshaw' arrives at BBC's Television Centre, for the One Show's Children in Need special, in London.
Tim Zimmerman, Peugeot's managing director, commended Matt on his fundraising effort from last year which raised an astonishing £1.9 million, saying "as an official partner of Children in Need in 2012, they knew it was an event they absolutely had to support.
"These vehicles have been chosen due to their load bearing capacity, performance, responsive nature and versatility, making them the perfect fleet for such an ambitious challenge," added Tim.
Keep up to date with developments in our Business Van News section.
Business Vans offers a wealth of useful information including company van law, business van case studies and a range of reviews including Toyota van reviews
For more information, visit Business Vans at http://www.businessvans.co.uk/