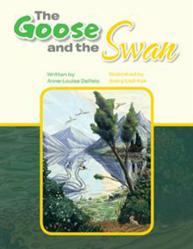 "My life has grown and changed since I began writing the Sampson stories."
Staten Island, NY (PRWEB) November 16, 2012
Author Anne-Louise DePalo was inspired to write her children's stories after spending time in her own backyard. Two swans made a home on her lake and as she watched them grow, she was motivated to write a series of books aimed at teaching children valuable lessons.
DePalo's new book, The Goose and the Swan, teaches children to follow their moral compass and to do the right thing even when it's not easy.
"My life has grown and changed since I began writing the Sampson stories," says DePalo. "I am a much more fulfilled, kinder, soulful and loving person."
Sampson the Swan lives on a lake in a quiet kingdom. One day, Goosey Lucy visits the lake and takes him on an adventure that teaches Sampson an important lesson about friendship and courage. He and the lake will never be the same again because of Goosey Lucy.
"I want everyone who reads about Sampson to come to know and love him as much as I have," DePalo says.
In The Goose and the Swan, DePalo teaches children to accept those who are different, treat others respectfully and know they are loved.
About the author
Anne-Louise DePalo has written 20 short stories about Sampson the Swan. She is a family law attorney and University of Rochester graduate. Anne-Louise enjoys writing poetry, painting, writing songs and traveling. She is a devout Catholic.
She and her husband live on Staten Island, New York.