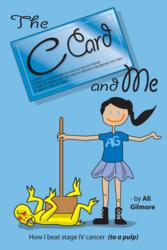 "This book should be in every Doctor's office and a part of every cancer patient's care package." – Gail Nigro
(PRWEB) November 15, 2012
In a sea of reports of death by the hand of this disease, one voice causes a ripple by shouting back "Hell no, not me~".
The C Card and Me, is the inspiring story of how one self confirmed couch potato took a daunting diagnosis and turned it into a tale of triumph over stage IV cancer. Drawing from her own experiences battling this "punk-ass" disease, Ali Gilmore has created a veritable cancer survival guide for those newly diagnosed and their loved ones.
Being a rebel against grammatical rules and having a propensity to swear, Ali brings character and authenticity to this cancer survival story that is designed to be read in a day (under 70 pages). Packed into those pages are her insights and anecdotes, presented in her uniquely humorous and at times irreverent manner in order to shed some light on a rather dark subject and smooth the road ahead for others.
When asked what inspired her to write the book, she responded, "The day I was diagnosed my head was reeling. I wish someone had handed me an insider's guide like this from day one, then just as I wrapping up my treatment, a good friend told me her mother had been diagnosed. I knew exactly how they felt and how I could help. I started writing that day and didn't stop until I was sure I covered everything crucial."
Her mission is to get The C Card and Me story into the hearts and minds of 1,000,001 people, so when someone asks her what she accomplished in life she can say "I helped over a million people become less afraid of cancer and better prepared to deal with it."
These customer reviews sum it up by saying:
"This book should be in every Doctor's office and a part of every cancer patient's care package. Her story is told with humility, wit and unvarnished truth." – Gail Nigro
"Ali is a gem and her book is too. I loved it!" - Sheila Patel, M.D.
"It's the way she talks about the disease as a cheap, ridiculous enemy that really clicks with her ailing readers." - Tom Pfingsten, NC Times
"Ali you are a breath of fresh air. Your book is very compelling, relevant and funny." - Timber Jim Serrill, Legendary Mascot for the Portland Timbers
The C Card and Me is now available on Amazon.com, Amazon Kindle and Barnesandnoble.com. Discover more at: http://www.theccardandme.com. Follow the latest news on Facebook and Twitter.
About Ali Gilmore
Ali Gilmore is a freelance photographer, singer/songwriter and professional geek. Originally from Seattle, Washington, she now resides in the coastal town of Oceanside, CA. Discover more about Ali at: http://www.aliyouarenotthebossofmegilmore.com
###