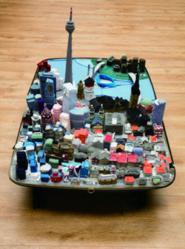 The solo exhibit is a thorough overview of the works of this Beijing-based artist, considered one of China's most important.
Düsseldorf, Germany (PRWEB) November 15, 2012
A new exhibit at the Kunsthalle Düsseldorf -- in collaboration with the Groninger Museum -- featuring works by YIN Xiuzhen (born 1963) will be shown December 15, 2012 – February 17, 2013. The solo exhibit is a thorough overview of the works of this Beijing-based artist, considered one of China's most important. YIN Xiuzhen is known for elaborate sculptures made from textiles, clothes, furniture, and simple construction materials like cement and stone.
The exhibit begins with photographs of her installations from the early 1990's – often set in pristine and empty landscapes, the only way to see them now. Her works from that period often deal with the consequences of industry and technology on nature and human beings. An example is 1995's "Washing River," which documents a performance of Chinese citizens who sponge-wash a block of frozen dirty water until the ice has melted.
However, the show mainly focuses on her spacious, monumental, and touchable textile sculptures of recent years, which also mark a turning point in Yin's creative development. Themes are high-tech and urban growth, and the medium is second-hand clothing, which she transformed into huge sculptures with motifs such as planes, cars, highways, and other symbols of the short-lived nature and seemingly limitless mobility of our globalized present. At the same time, the pieces are highly detailed and elaborately crafted – features that invite the observer to linger – creating a polarity with the message of fleetingness they convey. Examples are "Collective Subconscious (blue)" (2007) and "Engine" (2008).
YIN Xiuzhen's work has been exhibited at many highly acclaimed venues, such as the Venice Biennale 2007 and New York's Museum of Modern Art in 2010, but the Kunsthalle Düsseldorf is the first big solo exhibit in Europe.
Through 2013, Düsseldorf's tourism office is offering hotel and city specials for many of the city's events like the YIN Xiuzhen exhibit at Kunsthalle Düsseldorf. Packages can be booked right from the tourism office's website at http://www.duesseldorf-tourismus.de/hotelpakete. Prices start at €49 per night per person based on double-occupancy for a 2-3 star hotel in the city center and at €69 per person for a 4-5 star hotel. All packages include breakfast, a Düsseldorf Welcome Card (free public transportation within city limits plus 30 free or reduced admissions to city attractions), and a city information package.
For more information on the YIN Xiuzhen exhibit, visit http://www.kunsthalle-duesseldorf.de.
# # #
Düsseldorf Marketing & Tourism GmbH is the visitors and convention bureau of the city of Düsseldorf. Its responsibilities include tourism and city marketing, as well as conference and meeting marketing, hotel reservation services, fairs and convention services, city event ticket sales and advance ticket reservations. For more information, visit http://www.visitduesseldorf.de.
Düsseldorf International Airport, Germany's Next Generation HubTM, offers several non-stop flights from US & Canadian cities (Atlanta, Chicago, Ft. Myers, Las Vegas, Los Angeles, Miami, New York, Newark, Toronto, San Francisco, Vancouver), as well as convenient connections to many European cities. For more information about the airport, visit http://www.fly2dus.com and http://dus-int.de/dus_en/.