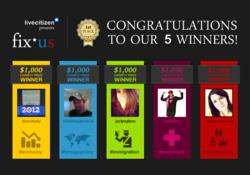 Los Angeles, CA (PRWEB) November 15, 2012
LiveCitizen.com, a social debate site focused on politics, current events and social issues, announced the winners of the Fix*us contest. Fix*us focused on ordinary citizens coming up with their own solutions to "fix" the US in the areas of economy, foreign policy, immigration, healthcare and social issues. Each of the five winners from each topic will receive $1000 each to give to the charity of their choice.
Fix*us, which began on August 13th, encouraged everyday people to weigh in on important decisions that our elected representatives are responsible for. Citizens would offer solutions in the form of "Quotes" within 360 characters that gave solutions ranging from how to decrease our debt, reform our taxes to alternatives to the recently passed Affordable Care Act or the effects of marijuana legalization.
One winner was selected in each of the five categories by total vote counts. Voting was open to members of the LiveCitizen community as well as being open to guests or unregistered users.
The winners in their categories are:

economy: liberallady
foreign policy: rickkirkpatrick18
immigration: jaclynglenn
healthcare: nadoona
social issues: adopteeamanda
LiveCitizen congratulates the winners on their thoughtful solutions and their efforts on sharing their ideas to gain the momentum of votes required to be placed first among over 650 solutions submitted to Fix*us. To view the winning submissions in their entirety please visit http://www.livecitizen.com/top/fixus.
LiveCitizen.com is a project of Advanced Video Communications, Inc (AVC). Headquartered in downtown Los Angeles, AVC specializes in Video Chat, Rich Media and eCommerce systems utilizing cutting-edge technology and advanced development techniques. AVC provides online meetings, Web and video conferencing services to companies of any size.