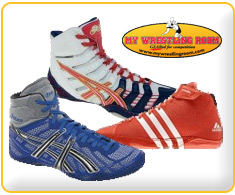 The Asics wrestling shoe is top of the line, light weight, and fast on the mat. There are many wrestlers, both young and old, who will be wearing the new Omniflex wrestling shoe this season.
Cortlandt Manor, NY (PRWEB) November 16, 2012
The newest and most advanced Asics wrestling shoe ever made is available at mywrestlingroom.com right now. The Asics Omniflex Pursuit is perhaps the most innovative wrestling shoe ever made, with several cutting edge technologies packing high-end performance into a truly intriguing shoe design. For starters, the shoes weigh in at just 7.3 ounces apiece – barely enough to register as more than socks on a wrestler's feet. That lightweight design is made possible by rib-like "straps" of hi-tech material and ultra-precise stitching, combined with a compression-fit bootie system and MONO-SOCK fit system. The compression-fit bootie and MONO-SOCK inner sleeve are designed to conform to the foot, allowing the low-cut Omniflex shoes to fit securely without the added weight of an upper. These features make the Omniflex Pursuit formidable adult or youth Asics wrestling shoes.
The Omniflex Pursuit is an Elite Wrestling Shoe from Asics
Weight aside, the Pursuits are designed for performance on the mat. The grip zones are intelligently engineered for great traction (something Asics does well in all of their shoes), and Asics has developed their own design system for assisting ergonomic and natural strides called the "Impact Guidance System". Under the acronym I.G.S., the idea for this system was hatched in the Asics laboratories in 2001 for running shoes. Since then, Asics has received tons of feedback from wrestlers around the world and tweaked their I.G.S. design to account for the unique biomechanics of wrestling. Overall, the Omniflex Pursuit is a marvel of design; it is a perfect storm of high-quality materials and smart features.
Of course, while the Pursuit line is geared toward the most elite wrestlers in the world, you don't have to be a world-class grappler to benefit from these remarkable shoes. In fact, the Omniflex Pursuit is gaining popularity among the future elite – youngsters building their proficiency in the sport. The Omniflex make great youth wrestling shoes because they are light, comfortable, and tough enough to last for years. Asics has long made wrestling shoes youth wrestler-friendly, but the Omniflex Pursuits take it a step farther. They might be some of the most durable wrestling gear Asics has ever made, and with three great colors (black, red, and red/white/navy), they are wrestling shoes youth wrestlers can get excited about.
The Asics Omniflex Pursuit is stocked at mywrestlingroom.com, the reliable wrestling equipment website with excellent customer satisfaction and the lowest prices on the web.