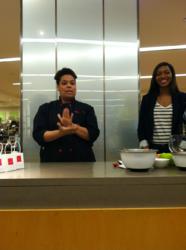 Cupcake Stiletto, Where Style Is Sweet
Sherman Oaks, CA (PRWEB) November 16, 2012
Sunday afternoon Cupcake Stiletto owner Alicia Worthy participated in a live cooking demonstration with Culinary Coordinator for Bloomingdale's and Celebrity Chef Lovely at Bloomingdale's 14060 Riverside Drive, Sherman Oaks, CA 91423.
With an audience full, Alicia Worthy and Chef Lovely gave a live cooking demonstration of one of Cupcake Stiletto's original recipes for Caramel Apple Cupcakes. Every audience member was gifted a signature Cupcake Stiletto mini couture bag with a mini version of the Caramel Apple Cupcakes, for participating in the event. Once everyone received their treat, the cooking demonstration began with an introduction of the Bloomingdales cooking series featuring Chef Lovely and the introduction of Cupcake Stiletto. Audience members were given an inside look on how Cupcake Stiletto creates all of their recipes using natural, fresh, and organic products from the fresh cut organic Granny Smith apples, to the spices and imported dulche de leche used in the cupcakes. The demonstration showed step by step how to recreate the Cupcake Stiletto treat at home, starting with baking the cupcake from scratch to creating the icing right in front of the audience's eyes.
Chef Lovely, the culinary coordinator at Bloomingdales has appeared as a contestant on FOX TV's Hell Kitchen Season 6, and on WE TV's My Fair Wedding with David Tutera, and Ru Paul's Drag U on LOGO TV. Chef Lovely has cooked for celebrities such as recording artist R.Kelly, Trey Songz, and athletes Rashied Davis of the Chicago Bears, and Marcus Gilchrist of the San Diego Chargers amongst others.
As the cupcakes were baking, audience members had a chance to ask questions to Chef Lovely and Worthy about the process of baking and were given baking tips as well. Cupcake Stiletto also raffled off a half of dozen Caramel Apple Cupcakes to a lucky audience members.
Cupcake Stiletto is a company that uses natural, organic and high quality ingredients in every freshly baked cupcake giving customers an authentic tasting experience. Each shoe is carefully chosen to ensure that the voice of the independent designers are expressed for selection by Cupcake Stiletto customers to embrace their personal style.
The Holiday Collection of shoes and cupcakes for Cupcake Stiletto will is set to be released November 20th, 2012 and will be available for purchase on their website w http://www.cupcakestiletto.com.
###