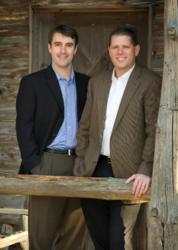 Delafield, Wisconsin (PRWEB) November 15, 2012
The Medical Economics Journal has recently named Daniel W. Wilson, CFP® and Robert T. Dignan, CFP® of CedarPoint Investment Advisors, Inc. to the 2012 List of the Best Financial Advisers for Doctors. For a third year in a row, they join an elite list of financial advisors providing the best holistic wealth management services for physicians in Wisconsin.
According to Wilson, the recognition by Medical Economics is the culmination of CedarPoint's ongoing efforts to build its business model around the idea of being a full service "Personal CFO" for clients that have too little time to properly research the strategies that their individual situations require. "We utilize our knowledge and expertise to work alongside their CPA, attorney, and other advisors to help educate our clients to make the best choices available to them, and constantly strive to make the financial part of their life as stress free as possible. By being a single point of contact for all their financial needs, our clients have the comfort in knowing their financial lives are in order and there is a team of independent advisors working for them. "
With all the uncertainty surrounding the Affordable Health Care Act, and how it will impact their practices and financial well being, planning has never been more important. Dignan added , "With all of the changes in the healthcare field, there has never been a better time for physicians to review and become more proactive with their own financial health. There are many economic factors that are outside of the physician's control, and a primary goal to re-focus them on those items that they can control. Balancing their lack of time with their appetite for details makes them an ideal client for our system. "
Both Wilson and Dignan have immediate family members in the medical field and understand the challenges these individuals face first hand on personal level, as well. Each has earned the prestigious Certified Financial Planner (CFP®) designation which entails rigorous initial and ongoing certification requirements as it relates to tax, estate, investment, debt, college and insurance planning.
About CedarPoint Investment Advisors, Inc.
Wilson and Dignan own CedarPoint Investment Advisors, Inc. is an independent, fee-based, SEC registered investment advisory firm located in Delafield, Wisconsin serving clients across xxx states. The firm's goal is to become your family's Personal Chief Financial Officer (CFO), and primary point of contact for all investment, financial, and tax-related issues. They are equipped to advise on all financial matters including, but not limited to, retirement planning, cash flow analysis, college planning, estate planning, tax planning, insurance planning and practice management. As an SEC -Registered Investment Advisory Firm (RIA) they are legally bound to uphold a Fiduciary duty, or more simply, to always put their clients' interests first. For more information on CedarPoint Investment Advisors, Inc.please contact Dan or Bob, or visit http://www.CedarPointInvestments.com or call 1-877-397-6907.
Contact Information
Daniel W. Wilson, CFP® or Robert T. Dignan, CFP®
CedarPoint Investment Advisors, Inc.
524 Milwaukee Street – Suite 300
Delafield, WI 53018
262-303-4503
Dan(at)CedarPointInvestments.com or Bob(at)CedarPointInvestments.com