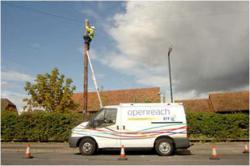 (PRWEB UK) 14 November 2012
WITH high fuel prices forming a major part of transport costs, reducing consumption has to be a priority for all tradesmen and SME van operators.
And if one can save money and help the environment into the bargain, that can only be a good thing.
To this end, tuning and ECU remapping specialist Viezu Technologies is working with BT Group, which runs one of the UK's largest fleets, to provide a series of environmental, performance and financial improvements which will entail remapping of more than 20,000 of BT's light commercial vehicles.
The programme will use Viezu's proprietary technology to deliver better fuel consumption, reduced CO2 emissions and improve drivability, say the company. The programme is expected to save BT more than £3 million.
The vehicles being tuned within the upgrade programme range from small Corsa-sized vans through to larger Transit chassis-cab vans, with much larger payloads and different driving cycles.
Thanks to its extensive understanding of its fleet operating cycles, BT Fleet was able to provide Viezu with detailed requirements and benchmarking figures. Viezu and BT Fleet then developed a blend of tuning solutions to match BT's requirements, including throttle, rev, speed and power limiting.
The remapping programme for BT's 24,000 vehicles is set to be completed in just four months and more than 5,000 vehicles have already been converted. Remaps take place at BT Fleet's 63 garages around the UK as vehicles come in for regular MoT tests and other service work.
Individual, bespoke software files are written for each vehicle by Viezu's team of software development engineers. New remap files are currently supplied back to BT Fleet's garages in just five minutes ensuring no delays in servicing and maximum workshop efficiency.
Paul Busby, Viezu Technologies CEO, told Business Vans: "Vehicle remapping offers fleets a host of opportunities and we're being increasingly asked by companies like BT to help them achieve their own environmental and cost reduction targets.
"With an ISO-certified process and a potential payback period of just three months, any technical risks are minimised and rewards can be felt almost instantaneously," he said.
The programme has been deemed so successful that BT Fleet is set to roll the service out to its business van customers to help them achieve similar savings.
Keep up to date with developments in our Business Van News section.
Business Vans offers a wealth of useful information including tacographs, van MOTs and a range of reviews including Citroen van reviews.
For more information, visit Business Vans at http://www.businessvans.co.uk/