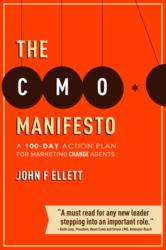 There are those who 'teach' and those who 'do.' John Ellett does both here in The CMO Manifesto, a must read for any new leader stepping into an important role.
Austin, TX (PRWEB) November 15, 2012
"The CMO Manifesto: A 100-Day Action Plan for Marketing Change Agents" is nFusion CEO John Ellett's essential guidebook for marketing executives who have been chartered to disrupt the status quo and become leaders of positive change at their companies and is available now from Amazon. Based on research with successful CMOs from leading firms such as Anhueser-Busch, Fidelity, GE, General Mills and Proctor & Gamble, the book combines stories, insights and tools to help marketing executives maximize the impact of their critical first 100 days. Through 12 practical steps, "The CMO Manifesto" provides a clear, actionable roadmap of activities essential to the success of any marketing executive.
In addition to the book, a dedicated website offers interested readers the chance to watch an interview with author John Ellett as he discusses the inspiration behind this debut work and speaks about what makes marketing executives' jobs so unique; readers may also download a chapter of the book.
Donovan Neale-May, Executive Director, CMO Council offers this praise for Ellett's book: "The insights and tools in 'The CMO Manifesto' are invaluable resources that can improve the odds of success for any marketing executive."
About John Ellett
John Ellett is an expert on how marketing change agents can have an immediate impact on their organizations. Since co-founding nFusion over a decade ago, John's helped marketers engage customers in innovative ways, and his unique perspective has made him a trusted advisor to marketing executives both on nFusion's client list and at organizations around the country. He also shares his insights on marketing and marketing leadership at Forbes' CMO Network and on nFusion's blog.
About nFusion
nFusion is an integrated digital-centric marketing agency headquartered in Austin, TX that partners with marketing change agents to revitalize brands, transform their digital presence and accelerate sales. The full-service agency partners with a wide range of B2B and B2C clients across all verticals. nFusion's work balances traditional media with the latest digital capabilities, always geared to generate results. Clients include AMD, Anheuser-Busch/InBev, BJ's Restaurants, CiCi's Pizza, Comerica Bank, Samsung, Sonus Networks and Zimmer Spine. nFusion can be found online at nfusion.com. Find us on Facebook at facebook.com/nfusion; tweet us at twitter.com/nfusion.