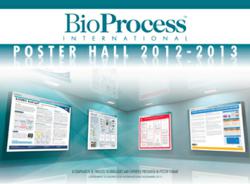 New York, NY (PRWEB) November 15, 2012
BioProcess International (BPI) announces the publication of the 2012-2013 edition of the annual BioProcess International Online Poster Hall. This year's collection features 18 bioprocess themed posters covering Cell Therapy, Downstream Processing, and Expression & Production. Viewers also have the chance to listen to audio files providing a deeper understanding of the technologies discussed and to contact authors with any questions or comments.
"Traditionally, posters have only been available during limited and hectic conference exhibition hours, but BPI's online poster hall breaks that tradition by providing a truly interactive print and electronic experience – available anytime, anyplace – at your convenience," said Brian Caine, BioProcess International's Founder and Publisher.
Posters include:
A New Mixed-Mode Resin for Large Scale Biomolecule Purification - Tosoh Bioscience LLC
AbSolute® High Cap by Novasep: Revolutionary Protein A Media - Novasep
Bio-Simplex™ Single-Use, Aseptic PreCulture Systems - Saint-Gobain Performance Plastics
Characterization of a Biomanufacturing Fermentation Process Using a New DOE Approach: Definitive Screening Designs - Lonza Biologics Inc.
Comparison of Commercial Kits for Extraction of Residual Host Cell DNA - Cygnus Technologies
Culture of Normal Human Dermal Fibroblast Cells in a Functionally Closed Automated Cell Expansion System - TerumoBCT
EtoxiClear™: A New Adsorbent for the Efficient Removal of Endotoxin From Biopharmaceuticals - ProMetic BioSciences Ltd
Evaluation of a Novel Polymer Based Protein A Resin for the Capture of Immunoglobulins and Fc-Fusion Proteins - Biogen Idec
Filtration Requirements for Small-scale Bioreactor Harvests - Parker Domnick Hunter
Flow-through Purification of Viruses: A Novel Approach to Vaccine Purification - EMD Millipore
Improving Cell Culture Productivity with a SEGFLOW® Automated On-line Sampling and Feed System - Flownamics, Inc.
KANEKA KanCapA™ A New mAb Purification Platform - Kaneka Corporation
Lipid Removal by Depth Filters in Plasma Fractionation - 3M Purification Inc.
New Core Bead Chromatography Medium Enables Group Separation and High Productivity Purification of Large Molecules - GE Healthcare
Novel Plastic Bag for Monoclonal Antibody Final Bulk Storage to Actively Prevent Oxidation - Hosokawa Yoko, Co., Ltd.
Pre-clinical Immunogenicity "Check Up" of Biotherapeutic Drugs - Lonza Biologics
Purification of Antibody Fragments: A New Route for Capture - GE Healthcare
Sartopore® Platinum Sterile Filtration, Redefined - Sartorius Stedim Biotech
About BioProcess International
BioProcess International™ (http://www.bioprocessintl.com) is a monthly, controlled-circulation magazine devoted to the development, scale-up, and manufacture of biotherapeutics and biodiagnostics. Each issue provides the global industrial biotherapeutic community with up-to-date, peer-reviewed information detailing the business, politics, ethics, applications, products, and services required to successfully drive biopharmaceuticals, vaccines, and biodiagnostics through the development and manufacturing process.
BioProcess International™ is part of the IBC Life Sciences Division of Informa, plc, a leading international provider of specialist information and services for the academic, professional and business communities. Informa offers a world-class portfolio of publications, events and data services for researchers, students, lecturers and professionals in the academic and scientific communities worldwide.
View the BioProcess International Online Poster Hall at: http://www.bioprocessintl.com/posters