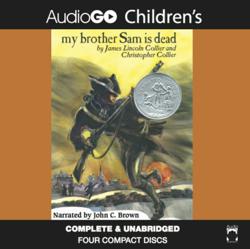 We're absolutely thrilled with this partnership.
North Kingstown, RI (PRWEB) November 15, 2012
AudioGO proudly announces an exciting collaboration with award-winning children's authors James Lincoln Collier and Christopher Collier to release more than 50 of their classic children's titles in new digital formats throughout the coming year. Released on a variety of audiobook and ebook formats under the Audio Bookshelf imprint, these titles will be available to libraries, retailers, and consumers, ensuring that the widest possible audience receives the opportunity to experience these captivating stories.
This exciting joint venture represents the company's strong commitment to introduce a new generation of young readers and listeners to the Colliers' engaging novels and non-fiction accounts. A journalist with thirty years of experience, James Collier works with his brother Christopher Collier, a history professor, to create works of historical fiction that are both fun and educational for children.
"We're absolutely thrilled with this partnership," says Michele Cobb, VP of Sales & Marketing for AudioGO. "We'll be able to enrich and expand our strong children's audio line working with these esteemed authors, as well as increase our new lineup of ebook offerings."
AudioGO has acquired ebook and audiobook rights to several acclaimed titles written by the Collier Brothers, including the Newbery Honor Book MY BROTHER SAM IS DEAD (available now), WITH EVERY DROP OF BLOOD, JUMP SHIP TO FREEDOM, THE BLOODY COUNTRY, and THE WINTER HERO. In addition, the publisher will release eighteen titles penned by James Lincoln Collier, including THE JAZZ KID, THE TEDDY BEAR HABIT, and THE WINCHESTERS. The Colliers' twenty-three book DRAMA OF AMERICAN HISTORY series, which spans the entire course of American history from the founding of Jamestown through present day, will also be produced and released as ebooks, preserving their lasting legacy of offering quality children's educational storytelling. As an added bonus, AudioGO is offering a free copy of BROTHER SAM AND ALL THAT, the companion guide to the historical context surrounding MY BROTHER SAM IS DEAD, with the purchase of any two Collier ebooks or audiobooks.
For more information, review copies, or to schedule an interview with the Colliers, contact Amy Ciesielski via email or at 401-295-3830.
About AudioGO
AudioGO, the home of BBC Audiobooks, is a leading publisher of distinctive single-voiced and full-cast dramatized audiobooks in the United States and Canada. We are the exclusive North American distributor for BBC Audiobooks, one of the most prolific publishers of complete and unabridged audiobooks and radio dramatizations in the world today. AudioGO distributes product direct to libraries across North America and to retailers via Perseus Distribution. For more information, visit our websites: http://www.audiogo.com (for consumers) and http://www.audiogo-library.com (for school and public libraries).