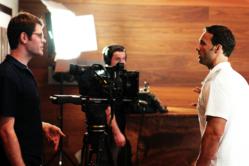 "This is a big step in communicating those abilities to a wider set of clients who may not know the Chicago market, but still need top quality media."
- J Matthew Nix, Project Lead, Absolute Vision Productions
Chicago, IL (PRWEB) November 29, 2012
Absolute Vision Productions, a Chicago-based media and production company, announced today the launch of new services for companies outside of the Chicagoland region. Based on growing demand for local video crews for out-of-state clients, Absolute has taken this step to reach out to companies in need of a trusted midwestern production team.
After receiving numerous requests and references for camera crews from clients in New York, Texas, and Los Angeles, Absolute Vision chose to specialize their focus for companies with similar needs. Aimed at the convention, meeting, seminar, and guest speaking markets, Absolute has honed their crew and technical expertise for the unique demands of coordinated production over long-distances.
"We often get requests for local crew, and we've been proud of our ability to meet our client's needs," said J Matthew Nix, project lead for Absolute. "This is a big step in communicating those abilities to a wider market of clients who may not know the Chicago market, but still need top quality media."
As the dedicated crew for dozens of local, national, and international companies, Absolute Vision looks forward to connecting their award-winning camera teams with new partners. Absolute's work is project-based and value-oriented, and takes advantage of the wide selection of crew and equipment available, including teleprompter, DSLR cameras (including Canon 5D and 7D), quick-turnaround editing, and on-location footage delivery.
Absolute is including remote production as part of its media packages starting today. For more information about Absolute Vision's production services, please email Mark(at)AbsoluteVisionProductions(dot)com.
About Absolute Vision Productions:
Absolute Vision Productions is a Chicago-based media and production company. Whether for agency-style media, professional video production, or general marketing and advertising, Absolute offers national-level experience with local connections and know-how for corporate, industrial, commercial, and creative purposes. To learn more, visit http://www.AbsoluteVisionProductions.com.