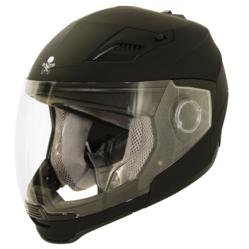 Los Angeles, CA (PRWEB) November 20, 2012
Xelement, one of the leading brands and manufacturers of high-quality, low cost motorcycle gear, have just announced their 2013 lineup of two new and innovative helmets -- including the cutting edge Evolution 2-IN-1 helmet and the amazingly comfortable Transport helmet. The new-for-2013 helmets take what has already made Xelement successful -- creativity and quality at a fraction of the cost of many other helmet brands -- and ride with it even further into the New Year.
Xelement Evolution 2-IN-1 Helmet:
Xelement's first new set of helmets is the Evolution 2-IN-1, which, like its name suggests, combines both a full-face helmet and an open face (or, 3/4) helmet. Using a clever two-lever system underneath the visor, the chin bar actually releases from the rest of the helmet, quickly converting the full-face helmet into a 3/4 helmet. The chin bar can be easily stored in most under-seat or saddlebag storage options on many motorcycles, but is actually small enough to fit into most motorcycle jacket pockets. And, despite having a removable piece the Evolution 2-In-1 still meets the strict DOT standard for helmets.
The Xelement Evolution 2-IN-1 helmet also includes a Spring Lock System for the faceshield, which both reduces drag and even remains in the locked position at high speeds. And, like any good full-face helmet should have, the Evolution Helmet additionally features a drop down inner smoke-tinted shield, which can be deployed even while wearing heavy riding gloves.
"Our Outlaw and Hawk helmet lines have proven to be very successful in the standard helmet categories," stated General Manager, Travis Johnson "So when we decided to release an Xelement branded helmet, we knew we needed something unique. With the Evolution's revolutionary 2-In-1 system, I think we achieved that goal. Now any rider can go from a full-face at the track, to a open-face for cruising the road, without breaking a sweat!"
Xelement Transport Helmet:
The second Xelement helmet that is brand new for 2013 is the Xelement Transport. While it appears to be just an average looking full-face helmet, the Transport actually features an innovative Doc. Meter Helmet Air System, which allows any rider to use a simple air pump mechanism near the back bottom of the helmet to increase or decrease the snugness. This customized air bladder system not only increases comfort, but helps increase safety as well. Since not every rider has the same shape and size head, the Xelement Transport utilizes a fairly simple solution to making every helmet fit perfectly for every rider.
In addition to the Doc. Meter Air System, the Xelement Transport also features a very aerodynamic shell for increased high-speed stability, multiple vent openings for even more comfort and customization and all Xelement Transport helmets are crafted from composite thermoplastic material that meets and exceeds the USA DOT regulations.
"Shopping for helmets can be a pain sometimes. Each manufacture has their own take on what the sizing should be for a helmet" said Travis Johnson "This ultimately leads to a lot of frustration among bikers. So with the Transports unique Doc Air System, you have a much more universal fit among the standardized sizes. Which means no more guesswork, and definitely no more headaches from a tight fit."
Finally, the Xelement Evolution 2-IN-1 and the Xelement Transport weigh an industry average of 3.5 lbs, and both feature removable, washable interiors, comfort head liners and cheek pads, and come complete with a helmet bag for easy, worry-free storage.
The Xelement Evolution 2-IN-1 and Transport motorcycle helmets both have a suggested retail price of $159.95; however they are available directly from Leatherup.com and MotorcycleCenter.com for only $89.95 starting today.
About Xelement:
Xelement is a well-known name in the world of motorcycles and bikers because of their high-quality apparel that is sold at reasonable prices. Owned and distributed by Leatherup.com, Xelement has been producing leather jackets, gloves, chaps and other riding apparel for bikers for almost 15 years. Recommended by thousands of satisfied customers, Xelement apparel continues to be one of the best selling brands of motorcycle gear on the market today.
About LeatherUp.com:
LeatherUp.com is the most popular online leather store selling motorcycle leather jackets, biker boots, leather chaps, and motorcycle helmets. Incorporating the unique approach of manufacturing their own products. This focus on direct to consumer cost structure has enabled Leatherup.com to bring higher quality products direct to online consumers at a fraction of the cost. The strong word of mouth and loyalty of LeatherUp.com customers has helped push them to the forefront of leading Internet Businesses and domination of several key niche market segments online.
About MotorcycleCenter.com:
MotorcycleCenter.com is a leading Motorcycle gear store, selling motorcycle parts, motorcycle jackets, helmets, motorcycle tires, boots, and motorcycle exhausts. Over 100,000 products from hundreds of top motorcycle brands like Gaerne, Cardo Scala, at the best prices are available at MotorcycleCenter.com.