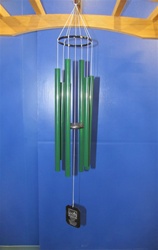 A lot of thought goes into the personalization of our wind chimes, which makes me believe that our products truly are the best Christmas gift!
Georgia (PRWEB) November 26, 2012
Eco Wind Chimes is offering personalized wind chimes to holiday shoppers. The wind chimes provided by Eco Wind Chimes are American made and sourced. Pricing begins at $30 dollars and the company offers wind chime styles for every type of person, such as patriotic wind chimes and piano wind chimes.
"Everyone is always looking for the perfect Christmas gift. We believe the best gifts are the ones that come from the heart. A lot of thought goes into the personalization of our wind chimes, which makes me believe that our wind chimes truly are the best Christmas gift," said Stephen Betzen, co-Owner. "Our wind chimes are made of high-quality products and they last forever. Imagine the gift recipient knowing you took the time to select, personalize, and then wait for the processing on his or her gift. That personal investment means a lot."
The website for Eco Wind Chimes allows visitors to quickly navigate through a variety of style, size and brand options when selecting wind chimes. "We are the go-to resource for wind chimes and wind chime gifts. And, we offer FREE personalization on all gifts for (or bought in memory of) public service members."
About: Eco Wind Chimes was launched in 2005. The soothing products produced by Eco Wind Chimes match the company's dedication to quality workmanship, affordability, and purposeful retail. All Eco Wind Chime products are made, and sourced, in the USA. More information, and a media kit, can be found by clicking here: http://www.ecowindchimes.com