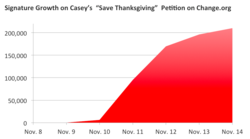 As a shareholder, I would gladly accept a slightly lower growth rate or slightly lower dividends in order to preserve the Thanksgiving Holiday for all Americans.
NEW YORK, NY (PRWEB) November 14, 2012
Shareholders are speaking out against Target's decision to open its doors at 9pm on Thanksgiving, the first time the company has opened on Thursday instead of the more traditional Black Friday. The news comes just one day before Target is scheduled to announce its Q3 financial earnings.
Dozens of shareholders have signed and left comments on a viral petition started on Change.org by Casey St. Clair, a Target employee of six years. In less than one week, the petition has garnered more than 200,000 signatures.
Jill Larson was one of Target's first customers at its Minnesota flagship store and now owns stock in the company.
"I bought stock in Target because I was so impressed by the respect and concern they showed their employees and the communities where their stores are located," Larson wrote on St. Clair's Change.org petition. "I am disappointed to hear about this decision. If they believe they have to open on the evening of the holiday, at least give employees the choice about working, and pay holiday overtime wages."
Petition signer Randall Rusinko owns 1,300 shares of Target stock.
"I am a shareholder of TGT," Rusinko wrote on the petition, "and I feel that Target needs to retain the image of a non-Walmart (oblivious of employees and a greedy management regime)."
Shareholder Ben Rabizadeh is also unhappy with Target's decision.
"As a shareholder, I would gladly accept a slightly lower growth rate or slightly lower dividends in order to preserve the Thanksgiving Holiday for all Americans," Rabizadeh wrote in an email to Change.org. "We all deserve this day off and as a shareholder, I do not agree with trying to make a little more money if it means employees cannot stay home with their families for the entire day."
"Everyone deserves a day off, and this is the only family holiday where all people from all backgrounds and all religious affiliations universally celebrate our freedom," Rabizadeh added.
Harrington Investments, a socially responsible investment firm that owns 16,635 shares of Target stock, sent a letter to Target headquarters on Wednesday asking the company to reconsider its decision.
"We were shocked to discover that our company plans to open Thursday at 9 p.m. on Thanksgiving Day," President John E. Harrington wrote in the letter. "This will inevitably put our employees in a situation where they must choose between keeping their jobs or spending quality time with their families. Thanksgiving Day is one of only three days most retail workers get off during the entire year."
"As investment advisors we have a fiduciary duty to our clients to minimize regulatory, legal and market risk," added Dale Warren, a portfolio manager at Harrington Investments, in an email to Change.org. "Target's disregard for their largest stakeholders, their employees, puts us in a precarious situation. Hopefully Target will reconsider their decision."
For interviews with Target shareholders or Harrington Investments, use the contact details at the top of the page.
Live signature totals from Casey St. Clair's campaign:
https://www.change.org/petitions/target-take-the-high-road-and-save-thanksgiving
For more information on Change.org, please visit:
http://www.change.org/about
Change.org is the world's largest petition platform, empowering people everywhere to create the change they want to see. There are more than 20 million users in 196 countries who use our tools to transform their communities – locally, nationally and globally.