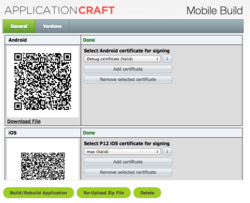 With every feature that we add to our platform, we are focused on eliminating the complexity of app creation. - Freddy May, Founder and CEO of Application Craft.
London, UK (PRWEB) November 15, 2012
Application Craft, the web based visual development platform, today announced the availability of AC Mobile Build, as well as new pricing and a compelling new website interface. Based on Phonegap/Cordova technology, the new AC Mobile Build feature will enable users to convert any HTML5 web app into a cross-platform native app for iOS, Android and Windows Phone, with a single click. Being cloud-based, it frees the developer from the considerable complexities of installing and maintaining Phonegap/Cordova and multiple native compilers.
Apps compiled with AC Mobile Build can be deployed immediately to App Stores. Apps have access to device capabilities such as the camera, GPS, address books, file system, etc. The Mobile Build platform also handles Certificate generation, freeing the user from further complexity and from requiring a Mac.
With Mobile Build, Application Craft has addressed a temporary shortcoming of the Phonegap Build platform by providing support for many of the most popular Phonegap/Cordova plugins (Push Notifications, On Device Database, Barcode Reading, In-App Purchases, etc.), most of which are currently not available with Adobe's PhoneGap Build. Application Craft will actively curate these and additional plugins in the future.
"With every feature that we add to our platform, we are focused on eliminating the complexity of app creation," said Freddy May, Founder and CEO of Application Craft. "We are huge fans of Cordova and Phonegap Build but our customers have been demanding plugin support as well as tighter integration with our own development platform. AC Mobile Build helps us better meet their current and future needs."
Blog post: http://www.applicationcraft.com/blog
Plugin Support Includes (as of November 2012):

Xtify push notifications
Client-side SQLite database support
Child Browser
Mail-to functionality
Scandit
ZXing bar code scanner + QR codes
AC Mobile Build will soon add support for the following plugins:
In App Ads
Distribution of iOS apps over the air
Local Notifications
AC Mobile Build is available free of charge for all developers that need to compile web apps, even those not created using the Application Craft platform.
In conjunction with this news, Application Craft is unveiling a striking new user interface that allows developers to more easily navigate the site and is revamping its pricing structure. Beginning today, Application Craft will be available as a free trial for 14 days; after which users can upgrade to a PRO subscription for $14/month or to an enterprise version that can be installed in-house.
Developers interested in testing the Application Craft platform and AC Mobile Build can visit: http://www.applicationcraft.com.
About Application Craft
Application Craft (http://www.applicationcraft.com) is a cloud-based app development platform that is uniquely designed to enable developers of all skill levels to create mobile, tablet and desktop apps.
Application Craft takes the unnecessary complexity out of building apps - with its drag-and-drop interface, 1-click native app deployment, and professional services - and provides the necessary tools to create powerful cross-platform apps that are appealing and engaging. The platform offers responsive design so that developers can simultaneously build and test full-featured web, hybrid or native apps once and deploy them across multiple platforms including iPhone, iPad, Android, Facebook, the desktop, the various browsers, and more.
Application Craft offers two versions of the platform – Pro and Enterprise - to accommodate any business need or budget.