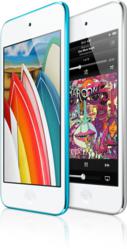 The latest iPod Touch is the best iPod ever, and as close to a phoneless iPhone 5 as you can get... CNET.com.
Salt Lake City, UT (PRWEB) November 19, 2012
Customers looking for great Black Friday iPod deals no longer have to surf the internet to find the best deals. BlackFridayiTouch.com is a new website that utilizes innovative search technology to scour the web to find the best deals on the popular Apple iPod.
Founder of BlackFridayiTouch.com, Jeff Spencer says, "I started the site after spending hours online trying to find the best deals on the iPod. Our site brings together all of the best sites and sales regarding the popular device, which means big savings for Black Friday shoppers."
The site not only provides sources for the best Black Friday iPod deals, it has extensive information about the iPod Touch itself including user reviews, specs, performance and the difference between the different generations of the iPod.
For example, the site breaks down the features of Apple's 5th Generation iTouch including the improvements made over older models. This information helps shoppers make the right choice no matter if they are buying for themselves or someone else.
Jeff goes on to say, "Apple has sold nearly 300 million iPods since 2004. They have over 90% market share of the digital music player market. It's such a popular product for people of all ages that there are going to be plenty of awesome Black Friday iPod deals with deep discounts. Everyone loves getting Apple products for gifts on the Holidays. Using our site will enable shoppers to save money and buy the perfect iPod for their friends and loved ones."
About Black Friday
Black Friday has become the annual start of the Holiday shopping season and falls the day after Thanksgiving. Since 2005, it has been the busiest shopping day of the year. It has become a cultural phenomenon with people waiting on line for days to take advantage of deep discounts on their favorite products. The phenomenon has also spread online with websites offering Black Friday sales as well.
About BlackFridayiTouch
BlackFridayiTouch was established to provide consumers with a singular website to find the best prices on the iPod. The site also features extensive information about the iPod designed to educate consumers on the popular Apple device. To visit the site, go to http://www.blackfridayitouch.com/.