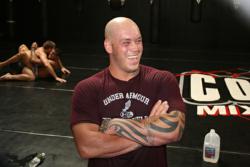 I want to see how far I can go with CrossFit.
Albany, NY (PRWEB) November 15, 2012
Jay White, a champion professional Mixed Martial Arts (MMA) fighter, today announced he has a new focus: Albany CrossFit and The CrossFit Games.
CrossFit is described as "the sport of fitness" and offers a $250,000 prize to "the fittest man on earth" at the annual CrossFit Games held each July in California.
"I want to see how far I can go with CrossFit," says White.
White is a two time Pan American Games Jiu Jitsu gold medalist who went on to a successful MMA career. But CrossFit was a whole new experience for the 265 pound, 6 foot 3, US Marine Corps veteran.
During his time in MMA, White fought with some success against such top names as Jeff Monson, Jake O'Brien, Christian Wellisch and Eddie Sanchez. The Brazilian Jiu-Jitsu purple belt is a five-time Grappler's Quest champion in the Advanced division, a multiple time grappling champion with NAGA and won a heavyweight championship in MMA in 2008.
"I've been an athlete all my life, but I didn't realize how weak my core was," says White. He discovered what all new CrossFitters discover: "I had to learn all the stuff I'm bad at."
White recently completed the introductory "boot camp" program at Albany CrossFit.
What was it like for a professional athlete to do the basic program alongside soccer Moms, weekend warriors and ordinary Joes and Jills? "Just great," says White, "you have to set your ego aside and focus on mastering the movements."
White had no problem with sled pulls and other high intensity movements familiar to him from MMA training. He quickly mastered kipping pull ups and handstand pushups. But he says he has "a lot of work" to do on core strength and Olympic weighlifting lifts that include the clean, the snatch and the clean and jerk.
What's really helped so far is the coaching staff at Albany CrossFit. "They've been just great," says White. "I've spent a lot of time in a lot of gyms, but I've never been in a place like Albany CrossFit. The whole atmosphere is more friendly than normal and the coaches are more willing to help."
White recalls being taken aback when one of the coaches, Kevin Houston, stayed after class to give him extra coaching on Olympic lifts. "That was pretty cool and just wouldn't happen in other gyms," says White.
Jason Ackerman, owner of Albany CrossFit and CrossFit Clifton Park, agrees. "We've got something special going here. We welcome Jay White and expect great things from him. Not to put the pressure on, but I'm putting the pressure on."
White will be competing in some local CrossFit competitions in the New Year and will also enter the CrossFit Open, along with tens of thousands of athletes from around the world. Those who do well proceed to regional events and the CrossFit Games.
White isn't making any predictions, but he is working hard. He is following the programming from Outlaw CrossFit and also continues to work out at Albany CrossFit.
Welcoming Jay White is just the latest chapter in the Albany CrossFit story that began modestly five years ago in cramped and shared space with a handful of members. It expanded to a second location in Clifton Park in 2011 and then renovated its original location. Together, both gyms have over 500 members.
Why the success for a very tough workout regimen?
"It's the community feeling and the caring," says Albany CrossFit and CrossFit Clifton Park owner Jason Ackerman. "We treat everyone who walks through the door the same way we treated Jay White: like an athlete, regardless of their current fitness level. As Jay found out, our members are great about encouraging each other. So people at all fitness levels are able to go way beyond what they thought possible."
When the MMA blog MMA Digest wrote about White's career change, an Albany CrossFit member wrote on the site's Facebook page: "Holy crap! This is the same nice guy I ran into in the hall at Albany CrossFit. Awesome! I had no idea!"
But it shouldn't really be so surprising. A key CrossFit concept is that the program is universally scalable and adaptable. Which leads to the slogan: "CrossFit is for everyone."
The workouts focus on natural and functional movements and are different every day. Every workout is coached and the coaches scale the workouts to accommodate different ability levels. CrossFit uses barbells, kettlebells, pull up bars and many body weight movements including squats and pushups.
And it's a bit like the TV series "Cheers": everyone knows your name. Members strike up friendships, go out together and travel together. A few have even gotten married.