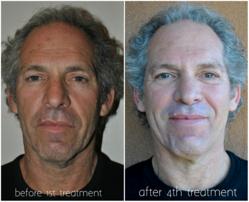 "As time passes, every cell loses strength and becomes more independent; cells need other cells for information, support, nourishment and direction. This treatment provides that," Lorin Parrish, Owner, BODY of Santa Fe.
Santa Fe, NM (PRWEB) November 15, 2012
BODY of Santa Fe unveils the BODY Natural Facelift, a signature spa service in Santa Fe that regenerates skin and mimics the effects of a surgical facelift without the risks and cost. The Natural Facelift combines a series of age defying therapies designed to reveal fresher, younger skin by using cutting edge technologies such as cryogenic stem cells, microcurrent, LED light and ultrasonic therapies.
After a careful skin analysis, the BODY Natural Facelift begins with a deep cleansing, utilizing either microdermabrasion or a 100% organic herbal enzyme peel, followed by the application of ECOCERT certified Plant Stem Cells (Naturopathica products) or Cryogenic stem cells developed by the DNA Health Institute utilizing pure bovine origin stem cells (from the first trimester embryonic fluid of organic grass fed cows in France)*. The cells been proven to slow cellular aging and counteract a variety of skin problems leaving skin more hydrated, better nourished, less aged, and more radiant. The Natural Facelift treatment is applied with either the plant based products from Naturopathica or DNA Health Institute products.
BODY of Santa Fe's highly trained therapists then custom design a blend of cutting edge, non-invasive therapies to amplify collagen and microcurrent to tighten skin and firm and tone facial muscles. LED light is then used to stimulate collagen and correct skin damage followed by ultrasonic therapy to deeply hydrate. Skin is left glowing and healthy with noticeable results after only one treatment.
"I created the BODY Natural Face Lift to give our clients an alternative to plastic surgery," said BODY owner Lorin Parrish. "As time passes, every cell loses strength and becomes more independent as its surrounding tissue deteriorates and runs slower and rougher. Cells need other cells for information, support, nourishment and direction; for skin to work the way it does, every cell must work in perfect unison with its surrounding tissue."
The BODY Natural Facelift is appropriate for all skin types and skin tones and is available for body treatment areas including the derriere, thighs, stomach, underarms, and chest. The BODY Natural Facelift is $175 for a 90-minute session and a series of 10 sessions is available for $1495. For more information about the Natural Facelift or to make spa reservations, please visit http://www.bodyofsantafe.com or call (505) 986-0362.
*The humane process of extracting bovine embryonic fluid—rich in nutrients and stem cells—happens during carefully calculated specific timeline (within the first trimester of the bovines pregnancy) to achieve maximum amounts of stem cells, which have not become specific to the bovine composition, but contain the DNA information to influence and support human skin.
For press inquiries, contact:
Jennifer Hinsley
JLH Media
505 603 8643
Jennifer (at) jlhmedia (dot) com
###
About BODY of Santa Fe: Founded by Lorin Parrish in 2004, BODY is a yoga, Tai Chi Chih and dance studio, café, spa, fitness center and boutique as well as a childcare center and yoga teacher training facility located in downtown Santa Fe. Built on the premise of functioning as a community center that inspires and encourages wellness, BODY is known for its commitment to sustainable, organic and fair-trade products in its boutique and selections of raw and vegan food as well as wheat, dairy and sugar free meals. BODY's café includes selections of wild line-caught fish and locally grown chicken and lamb as well as organic wine, local organic beer and sake, veggie cocktails and elixirs. A new 200 hour Vinyasa teacher-training program, BODY Yoga School, began in spring of 2012. BODY was recently voted by Santa Feans as the best yoga studio, restaurant for vegetarians and place for a facial and massage. For more information, please visit http://www.bodyofsantafe.com or call 505.986.0362.