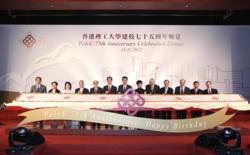 (PRWEB) November 15, 2012
About 1,000 members and friends of The Hong Kong Polytechnic University (PolyU) gathered at the Hong Kong Convention and Exhibition Centre on 13 November to join the Institution's 75th Anniversary Gala Dinner. The Chief Executive Mr CY Leung, who is also an alumnus of the University, was the Guest of Honour.
The gala dinner was graced by the presence of two former Council Chairmen in different era, namely Dr Allen Lee Peng-fei and Dr Victor Lo. They joined the Chief Executive Mr CY Leung; incumbent PolyU Council Chairman Ms Marjorie Yang; Court Chairman Professor Roy Chung; Federation of PolyU Alumni Associations President Ir Professor Johnny Fan; and PolyU President Professor Timothy W. Tong on stage for the cake-cutting and toasting ceremony.
Addressing the ceremony, Professor Timothy Tong was pleased to note that over the past 75 years, the Institution has evolved from its humble beginning as a Government Trade School to an internationally renowned university that emphasises education and research with strong application value and social relevance.
"Our student population has grown from some 70 in the early days to the present 32,000, the largest among publicly-funded universities in Hong Kong. Over the years, PolyU has nurtured more than 320,000 graduates, who have become a strong force working in different sectors of business and industry, and many of whom have become influential leaders in their own fields," Professor Tong said.
On this joyous occasion, PolyU also paid tribute to eight donors for their staunch support for the University through the establishment of eight Endowed Professorships in various academic disciplines. The Professorships and their contributors are: Endowed Professorship in Applied Chemistry contributed by Mr Patrick S.C. Poon, PolyU Council Member and Treasurer; Endowed Professorship in Fashion and Textiles contributed by a donor who chose to remain anonymous; Endowed Professorship in Asian Ergonomics contributed by Mr Eric C. Yim; Endowed Professorship in Health and Longevity contributed by Professor Angel Lau; Endowed Professorship in Elderly Vision Health contributed by Dr Edwin Leong Siu-hung; Endowed Professorship in Optometry contributed by Emeritus Professor George Woo and his brother Dr Victor Woo Chi-pang; Endowed Professorship in Culture and Art contributed by Miss Cally Kwong Mei-wan; and an Endowed Professorship contributed by The Kimberley Hotel.
During the dinner, distinguished alumni of different eras also shared the joy of studying at the Institution. Speakers included nonagenarian Dr Ng Wing-hong, an alumnus among the first cohort of graduates sent forth by the then Government Trade School; Ir Tsui Tack-kong, a graduate of the Hong Kong Technical College in the 1950s; and PolyU Council Member Mrs Yvonne Law, who is an accounting graduate of The Hong Kong Polytechnic.
The dinner came to a climax when famous violinist Ms Jue Yao and Council Chairman Ms Marjorie Yang joined the PolyU Staff Choir to perform on stage. This memorable event subsequently ended in unison with the song "We are the World."
The Institution has progressed from its earliest days as the Hong Kong Government Trade School, founded in 1937, to become the Hong Kong Technical College after World War II, eventually becoming the Hong Kong Polytechnic in 1972 – Hong Kong's first and largest tertiary institution providing technical education at post-secondary and degree levels. Since 1994, PolyU has assumed the full status of a university.
Press contact: Mr Wilfred Lai
Division Head (Media and Community Relations)
Tel: (852) 2766 5218