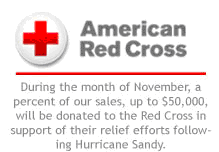 San Antonio, TX (PRWEB) November 15, 2012
RugStudio.com will be donating a percent of sales, up to $50,000, to the Red Cross in support of their relief efforts following Hurricane Sandy.
"We're pleased to support the Red Cross since their response has been so immediate to the families in the Northeast. We'd like to encourage our customers to become involved as well. " - Tom Munroe, President of RugStudio.com.
RugStudio wants to encourage customers to donate. From now until December 3rd, with any donation made to the Red Cross, (or any other organization supporting Hurricane Sandy Victims) customers will receive a special 20% off coupon good on RugStudio.com. Just email redcross (at) rugstudio (dot) com stating that a donation and RugStudio will email a special discount in return.
Thanks for joining together in helping those who have been affected.
About RugStudio.com
RugStudio.com (RugStudio) is a division of Oriental Rug Gallery, L.P. a family-owned business located in San Antonio, Texas with a rich history in the rug business. For more than 80 years, the company has enjoyed success in all aspects of the industry, from manufacturing and importing, to wholesaling and retailing.
For four generations, we have maintained our roots in our highly service-oriented retail division - partnering with retail shops of all shapes and sizes throughout the US.
Our goal is to offer a great selection, sound values, and outstanding service. With a 100,000-cubic foot warehouse and tens of thousands of rugs on hand, we are able to ship most in-stock items within 24 hours of your order.