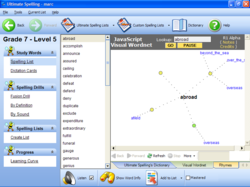 ...it provides not only a user-friendly interface, but also an efficiently laid out work plan to guarantee progressive learning.
New York City, NY (PRWEB) November 17, 2012
Product reviews save time for consumers, and come in handy for people who may be looking for a spelling improvement software system which can help them improve their spelling skills. Many people benefit from using a good spelling program, whether they're students who are preparing for a spelling bee, or adults who want to continue increasing their spelling abilities to ensure that their personal and professional communication is polished and accurate.
According to one of the latest Ultimate Spelling reviews by Write Better English, the reviewers concluded that the program is an effective product insofar as improving spelling abilities is concerned. One of the reasons they gave for why the program is such a success is the fact that it provides not only a user-friendly interface, but also an efficiently laid out work plan to guarantee progressive learning.
With a good use of repetition and elaboration techniques, Ultimate Spelling provides the user with the definition and pronunciation of the words along with their spelling. This way, the user gets multiple methods of remembering the word itself, and the meaning of each word is linked to its spelling and use.
To make the program even more comprehensive, dozens of predefined word lists are made available to users at all levels. These lists are easily customizable to fit the needs and preference of each user, and the user can also import or add their own lists. The words on these lists are used in all of the lessons and exercises, and in tools like flash cards, where one side shows the word and the flip side shows definition.
The software also includes audio pronunciation of the words by a pre-recorded voice. As contestants in a spelling bee are all too aware, it's crucial to know how a word is pronounced in order to spell it correctly. Where many dictionaries often rely on pronunciation marks and symbols that need to be interpreted by the reader, Ultimate Spelling provides accurate, on-demand vocal support.
Said Marc Slater, director of Ultimate Spelling, "We realize that there can never be enough supplemental tools for improving reading, vocabulary, and spelling skills. Ultimate Spelling is just one of our products, and we have the utmost confidence in its efficiency."
With top review sites putting in a good word for Ultimate Spelling, Slater is pleased that the company's hard work is being recognized. "Our aim has always been to help people reach their full learning potential. With Ultimate Spelling, I'm glad we're a little bit closer to reaching that goal."
For more information about how technology and spelling software can improve spelling performance for you and your family, please visit the official website at http://www.ultimatespelling.com.
About Ultimate Spelling™
Ultimate Spelling provides a modern and easy to use spelling software that has been designed with one goal in mind – making children WANT to learn.
It is a fast and easy way to master even the most complicated spelling, without the need to write long lists or complete boring tests.
In fact, Ultimate Spelling provides more than just spelling help. It is a complete educational resource that boosts all level of a child's literacy.
Containing a personal computer tutor, Ultimate Spelling is the most realistic step-by-step guide to flawless spelling ability.