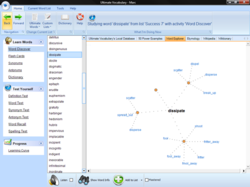 Ultimate Vocabulary carries an impressive 140,000 words in its database, which easily surpasses the word lists provided by the competition.
New York City, NY (PRWEB) November 21, 2012
Developing vocabulary software that will catch the attention of consumers is indeed a challenging task. To ensure that the software gets positive attention, however, is going to be all the more difficult, unless the software is professional, user-friendly, and effective. To find out which software meets these criteria, it's helpful to look at review sites like Vocabulary.co.il, which is considered to be the top review site for this type of product.
In the Ultimate Vocabulary software review recently conducted by Vocabulary.co, the software managed to pass one of the toughest set of reviewers out there with flying colors. In their examination of Ultimate Vocabulary, the reviewers found nothing but good things to say about the product.
The review, while uniformly positive, was also very objective in its assessment. The features were looked at closely and individually. The reviewers put the software's interface, usability, navigation, and dictionary database under close scrutiny.
According to the review, Ultimate Vocabulary carries an impressive 140,000 words in its database, which easily surpasses the word lists provided by the competition. Word count is not the only important factor in order for a vocabulary software to earn top marks from the reviewer, however. The manner in which these words are presented to the user is also crucial. Ultimate Vocabulary gets highest marks for its approach, which varies according to each user's individual learning curve. After all, the very purpose of coming out this sort of software is to help students increase their vocabulary in a faster, but painless way. Only by tailoring the lessons precisely to the learner will this be achieved.
The other thing that received high remarks in the Ultimate Vocabulary Software review is the customization option. This feature allows the user to come up with a special list of words that they want to focus on studying. The built-in testing tools, such as the flash cards and the multiple choice tests, allow the user to increase their expertise using their personal list of words – something that's particularly useful for students studying for an upcoming vocabulary quiz at school, or the SAT or GRE exams.
Best of all, Vocabulary.co declared the Ultimate Vocabulary Software as "the best value for money." Said Marc Slater, director of Ultimate Vocabulary, "This is definitely a big win for Ultimate Vocabulary. When we set out to create this product, we wanted something intuitive, something that would be enjoyable enough to use that it would encourage the users to actively use it for their own learning. This review means a lot because it does reaffirm what Ultimate Vocabulary truly stands for."
For more information on this review and how you can benefit from Ultimate Vocabulary, please visit its official website, http://www.ultimatevocabulary.com.
**********
About Ultimate Vocabulary™
Ultimate Vocabulary provides a proven and powerful platform, built to improve anyone's vocabulary.
The interactive self-improvement system provides more learning tools than any other program on the market, as well as more information on words.
The Ultimate Vocabulary software provides each and every user with a personal computer tutor. Providing a step-by-step guide to learning a powerful vocabulary, Ultimate Vocabulary is the learning tool everyone can benefit from.
Of course, the software is also backed by eReflect's iron-clad money back guarantee.