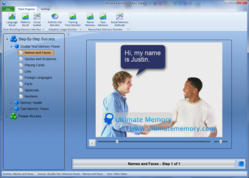 ...when we are in noisy situations and try to memorize new information, we rapidly reach our cognitive capacity threshold.
New York City, NY (PRWEB) November 28, 2012
As listening and remembering depend on and are fueled by the same cognitive resource, it's pretty much impossible for our brain to do both of these activities at the same time at a satisfactory level. In view of the research carried out by the scientists of the Max Planck Institute for Human Cognitive and Brain Sciences in Leipzig, when we are in noisy situations and try to memorize new information, we rapidly reach our cognitive capacity threshold. In fact, we reach that point much faster than if we were to try to memorize the same information in a more peaceful context.
Marc Slater, the director of Ultimate Memory software, commented on these findings, saying, "This research on the implications of noise on memory improvement is quite enlightening. Applying the research results can hugely benefit how people with hearing impairment can more easily exercise their memory and find the most effective method for memorizing information. It also suggests that to improve memory more effectively, an individual needs to be in a noise-free environment."
Since brain functions such as short-term memory are weakened due to noise, one can easily perceive the wide range of applications these findings might have; from schools and colleges to laboratories and meetings, promoting silence as a memory-enhancing trick is something everyone can easily implement. It's no longer about intricate memory techniques, but rather simple yet effective environmental adjustments.
Slater adds, "Research of this sort is highly welcomed in the academic and medical world equally, as it can give us an insight on how to improve and protect the brain functions of those with hearing limitations. This study sheds lights on how these people can still maintain other cognitive functions at normal levels, or prevent their deterioration whilst still able to carry on with their life as normally as possible."
These findings suggest that rather than always focusing on the mediums and technology of how to improve memory, health and so on, we should keep in mind those common-sense aspects of life that can easily enhance our efforts to achieve better lifestyles, as is the case with noise reduction.
For more information on how Ultimate Memory software can help, please visit: http://www.ultimatememory.com
About Ultimate Memory™
Ultimate Memory™ is the market's leading memory improvement software package.
Scientifically proven to improve memory with as little as ten minute's user per day, Ultimate Memory™ is also backed by an iron-clad guarantee.
Containing many innovative strategies, tutorials, tips and exercises, users benefit from a myriad of varied ways to learn.