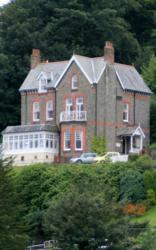 Properties achieving the Gold Award have exceptional levels of quality, comfort and cleanliness in bedrooms and bathrooms, and outstanding levels of customer care and food
(PRWEB UK) 19 November 2012
Devon Bed & Breakfast Highcliffe House overlooking the village of Lynton on Exmoor, has been awarded a five star status by Visit England for the ninth season running. The British tourist board undertake extensive scrutiny of accommodation including mystery overnight stays to ascertain the level of quality. Accommodation first has to achieve the required facilities to be placed in a star rated category, but they must then achieve exceptional quality.
Visit England have also awarded Highcliffe House with their coveted Gold Award. Bestowed only upon the top 10% of five star accommodations, the organisation constitutes receiving the Gold Award as;
"Properties achieving the Gold Award have exceptional levels of quality, comfort and cleanliness in bedrooms and bathrooms, and outstanding levels of customer care and food."
In the third recognition from Visit England, Highcliffe House have also earned the Breakfast award. The Breakfast Award indicates accommodation where owners, chefs and staff have gone the extra mile to ensure a quality service of hospitality and choice of breakfast. The award is only given to those that exceed expectations of their rating, showing that Highcliffe House go above and beyond their five stars.
The Guardian newspaper's online Travel Guide included Highcliffe House within their "10 of the Best Hotels and B&Bs in North Devon". Owners Mike and Karen Orchard are finalising their 2012 season and taking midweek Exmoor breaks for next year. Visit http://www.highcliffehouse.co.uk to enquire about bookings and rooms for 2013.
If you would like more information on Highcliffe House, please call Karen or Mike on +44 (0)1598 752235, e-mail at info(at)highcliffehouse(dot)co(dot)uk or visit their website at http://www.highcliffehouse.co.uk