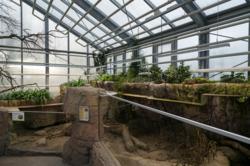 The LED lights have brought natural colors of the plants visible during the times when artificial light is used.
(PRWEB) November 16, 2012
In addition to being the home of various animals, the Helsinki Zoo also hosts hundreds of different plant species. Therefore, the Zoo pays great attention to the optimal lighting of their interior areas where animals and plants coexist. Until now the Zoo has used traditional high pressure sodium (HPS) lamps, but as these did not provide sufficient light for the plants, the Helsinki Zoo decided to look for other lighting options for its Africa - Asia House.
The Valoya LED grow lights were selected due to their unique light spectra that have been optimized for plants.
Timo Paasikunnas, Head Keeper of Reptiles, Amphibians and Invertebrates at Helsinki Zoo comments: "The LED lights have brought natural colors of the plants visible during the times when artificial light is used. Lighting also enables us to widen the plant selection away from shade plants towards sun plants and we can have flowering plants, even on the "forest floor".
What makes the employed Valoya ARCH spectrum especially unique is its light: the light is perceived as white by the human and animal eyes, but at the same time it contains all the information plants need for growing and prospering. Consequently, Valoya's LED lights enhance plant growth and are pleasant for the animal and human eye as well. Therefore Valoya's lights can be placed into spaces where plants coexist with humans and animals.
In addition to the superior spectrum, the Helsinki Zoo chose Valoya's grow lights because the LED's provide extensive energy savings and the robust fixtures warrant a long lifespan for the luminaires.
About Valoya
Valoya is a provider of energy efficient LED grow lights for professional use. Valoya LED -lights have been developed using Valoya's proprietary LED technology and extensive plant photobiology research. Currently, Valoya growth lights are used for a wide variety of plant species in 18 countries. Valoya's customer base includes numerous greenhouses and research institutions all over the world.
Valoya has a complete range of products to satisfy various plant lighting needs: The L-series in a T8 form factor for easy replacement of fluorescent tubes in low proximity applications. The R-series is a powerful roof light that replaces High Pressure Sodium (HPS) installations. The B-series bars are perfect for inter-lighting, mid height installations and for special cultivation spaces within residential areas.