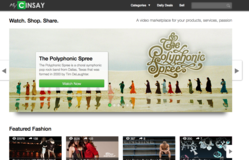 some merchants are experiencing conversion rates as high as 10% for actions taken within the video, and users can potentially increase the effectiveness and reach even more.
Austin, TX (PRWEB) November 15, 2012
Cinsay, a leader in social video commerce technology, is also playing a part with Crowdfunding sites like Kickstarter, StartSomeGood.com and Indiegogo.com. From filmmakers and artists to inventors and social entrepreneurs, people are coupling their microfunding efforts with Cinsay's Smart Store™ platform to extend their reach on the web and to increase revenues with on demand, branded merchandise that's built right into the video player.
According to Kickstarter, 44% of listed projects are successful. That's pretty good statistics for anyone who knows about funding a business or nonprofit. Add to that, Cinsay's technology where some merchants are experiencing conversion rates as high as 10% for actions taken within the video, and users can potentially increase the effectiveness and reach even more.
One Kickstarter campaign launched by the Polyphonic Spree has almost reached its $100,000 goal for a 2013 tour and DVD documentary project. The band added Cinsay's Smart Store™ video to their promotion early in the campaign. The video pitch also links viewers directly to their Kickstarter.com page while also offering instant gratification to fans with branded, high quality merchandise. Shirts, iPhone and iPad covers can be purchased directly inside the video. The purchase for the customized products is handled through Cinsay's backend merchant account where buyers can use credit card or PayPal to complete the purchase. Cinsay On Demand then creates the selected product 'on demand', then sends the buyer an email along with shipping & tracking information. So while fans are waiting for the Kickstarter swag to arrive, which can be months after the campaign ends, they can be enjoying merchandise within a few days.
This marketing approach also works for writers and filmmakers. Tanner McEnroy, writer of "War of Wings", just added Cinsay to his fundraising project. Tanner also selected some of his story designs to be featured on merchandise for sale in his Smart Store. The project's store is featured on the recently launched shopping portal, MyCinsay and can be shared by his supporters onto social sites like Facebook and twitter. Even if Tanner's project doesn't reach his Kickstarter goal, he can still make money with each sale of branded items and create additional marketing for the book.
Promote. Fund. Sell.
This month, Cinsay is offering Kickstarter and other microfunding users a free Cinsay On Demand account. Users simply upload their existing promotion video along with customized artwork for the merchandise and a link-back to their funding site. "This is a tremendous opportunity for anyone who's Crowdfunding for any project", said Christian Briggs, Founder and CEO of Cinsay. "Cinsay and MyCinsay recognizes and celebrates Global Entrepreneur Week by offering people the world's first and best, fully turnkey video commerce platform for free to anyone wanting to launch their own business or project. It's simply the best way to promote, fund raise and sell", he added.
Each Smart Store™ account comes with it's own web landing page, embeddable video player, SEO and keywords, store description, comments section, social media share icons and a robust backend CMS analytics tool so merchants can measure the effectiveness of their Cinsay platform and continue to optimize it.
More information on Cinsay including how to register for a free 30-day trial Smart Store™ account can be found at Cinsay's newly redesigned website. http://www.Cinsay.com
About Cinsay, Inc.
Cinsay has created a next generation social eCommerce, viewer interactive, video-based platform for any individual or size businesses. Cinsay's SaaS based technology enables everyone to sell products, services, capture donations, and generate leads all inside the patented Smart Store™ technology. Additional services available to individuals, SOHO's, enterprises and nonprofits, are Cinsay's complete turnkey business solution via exclusive on demand, made to order merchandise featuring hundreds of personal, brandable products like t-shirts, caps, mugs and iPhone covers available at CinsayOnDemand.com. Now, anyone can be in business within minutes with no inventory whatsoever. Merchants benefit from Cinsay's in-depth reporting tools and real-time statistical data. Cinsay's embeddable platform is compatible with web and mobile devices and is highly scalable via its enterprise-level hosting and distribution networks. Full video production is available through CinsayProductions.com. Cinsay aggregates and promotes merchant stores via its searchable consumer portal, MyCinsay.com. Notable clients include: GameFly, Neiman Marcus, Wet Seal, decompras, and California Closets. Forbes has named Cinsay as one of "America's Most Promising Companies" and by eTail Conferences as a "Rising Star" in innovation for 2012.
Media Contacts:
Cinsay, Inc.
David Burrows
972-616-6400
dburrows(at)cinsay(dot)com
MyCinsay.com
CinsayOnDemand.com
CinsayProductions.com