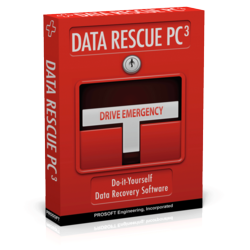 Livermore, Calif. (PRWEB) November 16, 2012
Prosoft Engineering is proud to announce that Data Rescue PC3 was awarded Editor's Choice by PC Magazine, October 2012.
"We are proud to have Data Rescue PC3 Computer Recovery Software reviewed and awarded the prestigious Editor's Choice by PC Magazine. Data Rescue PC3 is powerful, yet easy-to-use hard drive recovery software. Unlike other data recovery software programs, Data Rescue PC3 stands out with its simple interface, robust scanning and bootable CD that will bypass all the "problems" your hard drive is having. Data Rescue PC 3 was introduced in 2004 and we have continued to develop new versions to support newer operating systems, add new features, as well as provide free pre/post technical support," states Greg Brewer, CEO at Prosoft Engineering. "This award for Data Rescue PC 3 Windows Data Recovery Software now joins our top-awarded Data Rescue 3 for Mac, along with our best-in-class hard drive recovery service The Data Rescue Center. Together, our software and hard drive recovery service provide unparalleled choices and options for all computer hard drive emergencies."
About Data Rescue PC 3
Data RescuePC3 is the best data recovery software for recovering files from a crashed or virus-corrupted Windows hard drive. If your computer is not booting or has been overtaken by a virus, you can simply insert the Data Rescue PC3 Emergency Boot CD into your computer and it will boot up your PC, allowing you to run Data Rescue PC3 from it (no installation necessary!). Simply put, Data Rescue PC3 is the best data recovery software solution.
Availability
Data Rescue PC3 Computer Reocvery Software is available for purchase online at http://www.prosofteng.com for $99.
About Prosoft Engineering
Established in 1985, Prosoft Engineering, Inc. specializes in creating professional quality software designed to be easily used by both novice and expert users. Prosoft Engineering, Inc. is headquartered in Livermore, California. Prosoft also founded The Data Rescue Center, a leading hard drive recovery service based in Livermore, CA.