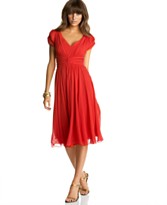 (PRWEB) November 15, 2012
CloseoutExplosion.com has published a new report that teaches resellers how they can sell more wholesale dresses by following the tips published in this new report by fashion entrepreneur Donny Lowy, who runs Closeout Explosion, a New York apparel business. Donny Lowy has published his dress selling tips for free on his closeout dress website. His tips can be used by everyone from African boutique owners, to Caribbean home based sellers, to New York Garment District showrooms. The tips are based on his research and sales experience in the clothing business.
"In my interactions with various clothing retailers and distributors I have seen a basic element that enables them to succeed, and that is their ability to understand the buying behavior of their customer. Whether you have a designer clothing shop in Nigeria selling Tahari office suits, or a boutique located in Botswana that carries BCBG shoes, it is crucial that you have a detailed understanding of your customers. My article focuses on how to establish a buyer's profile, and what you can do with it to maximize your dress sales," said Donny Lowy, who started out by selling at flea markets and now exports brand name closeouts to Africa, Asia, the Caribbean, the Middle East, and to Latin America.
Although his tips focus on the sale of dress wear, they can also be just as easily applied to the retail of the Apple iPad Mini, to the wholesale of Coach handbags, or to the online selling of overstock shoes. The key to succeeding in any type of retail or wholesale business is the ability to source and provide the right products, and at the right time, according to a shopper's needs.
Closeout Explosion reviews many subjects related to the closeout industry through a network of blogs. Donny Lowy, the CEO, is also a published author of books and articles that cover topics such as selling on eBay, making money at flea markets, starting a clothing business in Nigeria, making money with comic books, buying brand name merchandise at below wholesale prices, and discovering true closeout product sources in New York.
His Brooklyn clothing warehouse is open 6 days a week to resellers. They can visit his warehouse to make their own purchases or they can order online through his e-commerce website. His wholesale showroom offers department store overstock, high end store returns, liquidation, and shelf pulls.