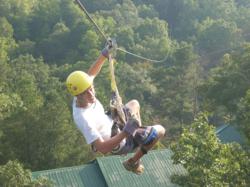 Guinness Book of World Records measured and proclaimed the Screaming Eagle Zip Line Canopy Tour at Banning Mills "The Longest continuous Zip-Wire (line) course / tour, in the world."
Whitesburg, GA (PRWEB) November 17, 2012
Historic Banning Mills Adventure Park, already home to one Guinness World Record for the World's Tallest Freestanding Climbing Wall, is adding another plaque to their wall of adventure fame. Today, Guinness Book of World Records measured and proclaimed the Screaming Eagle Zip Line Canopy Tour at Banning Mills "The Longest continuous Zip-Wire (line) course / tour, in the world."
Screaming Eagle has 40,000 lineal feet of zip line course and has 84 lines included in the course. The tour includes sky bridges, ropes challenge courses, zip lines that take guests up to 60 MPH and offer exceptional scenic views of the naturally preserved and historic landscape below. Included in the tour is the new Amazing Flight of the Falcon zip line. At 3,400 ft long, the zip line is one of the longest single lines in the mainland United States. Guests who zip the line are able to do so in the exhilarating "Super Hero Style," which is laying face down.
Guinness created a new category and title for the Banning Mills zip line course. To do this, Historic Banning Mills had to adhere to a number of guidelines. The lines had to be at least 10 km (about 32,000 ft) in length, which they far exceeded and there had to be a verified list of customers for the last year, which was around 30,000. The course was officially surveyed, Licensed Engineer stamped, verified to be on one piece of property and continuous.
Historic Banning Mills is popular for its array of extreme adventures, but is most popular for their impressive zip-line canopy tours. "We are very excited to receive another great recognition from Guinness. We have worked very hard to get the tour to the impressive state that it is in today. We are honored to receive this title and eager to continue to make Banning Mills even bigger and better for guests to enjoy," says Mike Holder, founder of Historic Banning Mills.
In addition to the famous zip line canopy tour, Banning Mills has the World's Tallest Freestanding Wall standing at 140-feet tall; the Sky Trek bridge, which is 600-feet-long and over a 180-feet-high travels over Snake Creek Gorge with breathtaking views, team building and GPS Trek courses; an Aerial Adventure Park called the Terminator; and a 100 ft Power free fall. Kayaking and Horse Back Riding are available on site and offers excitement at milder speeds. No matter which adventure, Historic Banning Mills exceeds thrill seekers' expectations and also caters to corporate team-building and getaways.
Historic Banning Mills Adventure, Retreat and Conservation Center is a 501c3 non- profit organization located in the beautiful Snake Creek Gorge of Carroll County, Georgia, and is approximately 19 miles south of Douglasville and 45 minutes west of Atlanta's Hartsfield-Jackson airport. Proceeds from the retreat and adventure treks are used to subsidize the educational, leadership and conservancy programs. Historic Banning Mills also has lodging and meeting room options, Day Spa opportunities and live Bird of Prey educational shows and two falconry programs. There is a little something for all outdoor enthusiasts at Historic Banning Mills. For additional information, reservations or lodging options, please visit historicbanningmills.com or call 770-834-9149.