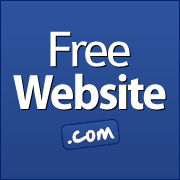 New York, NY (PRWEB) November 16, 2012
FreeWebsite.com released an article today that explains the benefits of its free and professional graphic design website template service to hard working graphic design firms. The free website supplier indicates that it will do all of the work, while the graphic design companies will reap all of the rewards.
"At FreeWebsite.com, we understand the power of the Internet," said a FreeWebsite.com representative. "We know that nine out of every 10 consumers will be utilizing the Internet next year to find the products and services that they are looking for. That is why we are encouraging you to take advantage of our free graphic design website template and grab as much of that traffic as you can."
FreeWebsite.com offers a service that puts its staff of professional web engineers to work for graphic design companies. Graphic design professionals will get a completely engineered graphic design website template that they can update and edit as much as they want, absolutely free.
The article also points out that FreeWebsite.com enhances its free graphic design website template service with a full SEO option that gets its website on the front pages of Yahoo, Bing and Google search results.
About FreeWebsite.com: FreeWebsite.com breaks down barriers to website ownership by providing attractive, easy to maintain websites, complete with content, at a low price. To learn more, visit FreeWebsite.com.