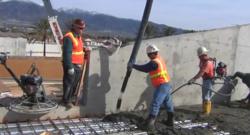 We have roughly 2 billion in EB-5 funds nestled here in regional centers
Riverside, CA (PRWEB) November 28, 2012
Tom Freeman, Economic Trade Commissioner for Riverside County recently sat down with Aimee Rios of EB-5 Investment Report to discuss the extension of the regional center program and what that means for Riverside County and the United States. He also talked about the trend of investors looking for projects with municipal governments.
There are over 200 USCIS designated regional centers nationwide and Riverside County is home to 59 of them. Tom Freeman attributes the high number to the county being the best value for investors. Riverside is a TEA (target employment area) meaning the area is experiencing unemployment of at least 150 percent and, in such regions, the minimum investment required is $500,000, not the $1 million minimum investment non-TEA requires. According to USCIS, regional centers universally focus on TEA's. For investors the discount they get for investing in these areas is a bargain. Tom said, "We have roughly 2 billion in EB-5 funds nestled here in regional centers."
With the recent signing of the regional center program (previously called the regional center pilot program) bill by President Obama, regional centers in Riverside and nationally will continue to build projects, create jobs and grant immigrant visas at least until September 30, 2015. The extension, Freeman states, is great news for everyone.
Some projects coming to Riverside County that may use EB-5 funds include two arenas, one on the campus of UC Riverside and the other in Coachella Valley, near Palm Springs. If both projects come to fruition they would have a tremendous impact on the region, not only in job creation, but the economic stimulus of people coming to the community and spending money. Freeman said, "There's not a person who's in the economic development business who wouldn't tell you that a stadium, arena or high level competency sport [produces] a lot of money for communities."
UC Riverside's Athletic Director Brian Wickstrom is currently looking at EB-5 financing to build a 6,700 seat sports/entertainment arena on campus. He is in the initial stages of the process and has yet to create the economic analysis which must be done before seeking investors and presenting the plan to the board of regents for approval. But he has traveled to China where he says there is a great interest from investors for the arena project.
Freeman sees a shift with international investors looking into projects with municipal governments like schools, universities, city hall and the water district. He says that investors are on a "good track" if they go this route.