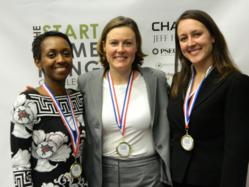 "I'm still in shock. When they announced my company's name I just thought, this must be a dream," said Moira Brett of GreenShave
Jersey City, New Jersey (PRWEB) November 16, 2012
At the kick-off for Global Entrepreneurship Week in Jersey City, three winners were selected for the Start Something Challenge- a statewide business pitch competition which came to an end on November 12. Moira Brett of Jersey City took first place, winning $10,000 for her business, GreenShave, which makes all-natural shaving creams. Samantha Music of Versor Inc. won second place ($7,500) and Hyacinth Mills of New Life Journeys won third ($5,000).
"I'm still in shock. When they announced my company's name I just thought, this must be a dream," said Brett who entered the competition to overcome her fear of public speaking.
Nearly 80 entrepreneurs from across New Jersey submitted video pitches to enter the competition which was organized by nonprofit Rising Tide Capital. 30 entrepreneurs were selected to pitch their ideas to a panel of judges at St. Peter's University, and from there, three were selected to win cash prizes. With her prize money, Brett plans to get her shaving cream certified organic, mass-produce her creams so she can sell them in stores, and participate in trade fairs.
Each year, Rising Tide Capital works with partners to host Global Entrepreneurship Week in New Jersey. During the kick-off this year, Rising Tide Capital also facilitated a small business resource fair featuring entrepreneur and author Chris Rabb. According to Rising Tide Capital CEO Alfa Demmellash, these kinds of events are not just about connecting entrepreneurs with financial resources.
"While we can't provide each entrepreneur with a cash prize, we hope that every entrepreneur that participated in the Start Something Challenge left with new connections, fresh feedback and new ideas for what is possible for their businesses," said Demmellash.
About Rising Tide Capital
Headquartered in Jersey City, Rising Tide Capital, Inc. is a 501(c)(3) non-profit organization founded with the mission to empower entrepreneurs to create and grow small businesses which transform lives and communities. The organization's vision is to build a replicable model for high-quality entrepreneurial development services that can be adopted locally in other low-income communities to catalyze social and economic empowerment. Learn more at http://www.RisingTideCapital.org.