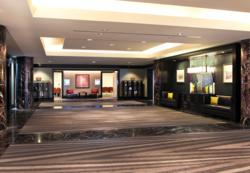 Hyatt Regency Boston has been transformed into a modern space that complements our personalized service and our innovative attitude.
Boston, MA (PRWEB) November 26, 2012
Amidst the bustling activity and improvements of downtown Boston, Hyatt Regency Boston has been engaged in remarkable enhancements of its own. Announcing the completion of the recent renovation, this AAA Four Diamond center city property has a brand new, stylish and sophisticated look and feel.
The lobby transformation is revealed, displaying striking color schemes, polished marble registration pods and vibrant new artwork. Featuring multi-level seating for casual conversation, semi-private nooks for business meetings and high-top tables for coffee or cocktails, the newly designed space is the perfect combination of functionality and feng shui.
Complementing the full service restaurant, the newly added Avenue One Express is the perfect option for guests on the go. Offering specialty coffee beverages, breakfast Paninis, homemade yogurt parfaits and individual serving snacks for a day of exploring; this new outlet is designed for the movers and shakers. In the evening Avenue One Express elegantly transforms into the upscale bar scene that draws pre and post-dinner guests, fans for a big game and the local regulars.
This modern makeover has revitalized the meeting space with creative lighting, ultramodern furniture, state-of-the-art boardrooms, a striking marble registration desk and much more. Boasting interactive reader board technology, attendees can visually identify the location of their meeting room, as well as view weather updates, recommendations for local attractions and more.
General Manager, Philip Stamm states, "We are extremely excited to unveil our brand new product. Hyatt Regency Boston has been transformed into a modern space that complements our personalized service and our innovative attitude. We look forward to welcoming new and returning guests to experience the reenergized Hyatt Regency Boston."
# # #
About Hyatt Regency Boston
Recent ENERGY STAR recipient Hyatt Regency Boston is situated in the heart of the city, providing luxurious accommodations and a prime location to experience everything Boston has to offer. This 498 room, newly renovated hotel, places you within walking distance of boutique shopping, numerous theatres, lively night-life and many historic tourist attractions. With 30,000 square feet of flexible meeting space, including a 5,046 square foot ballroom and adjoining terrace, Hyatt Regency Boston can accommodate events of any size or nature. Enjoy the hotel's 24-hour in-room dining, business center and extensive fitness center; featuring an indoor swimming pool, eucalyptus steam room, sauna and therapeutic massage services. Spectacular views, convenient location and unparalleled service make Hyatt Regency Boston the perfect hotel for any occasion. For more information please call 617 912 1234 or visit http://www.regencyboston.hyatt.com.