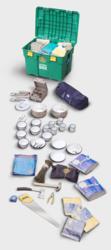 Due to ongoing displacement of families and the winter weather conditions, we have identified a need for more blankets and other equipment
Sarasota, FL (PRWEB) November 15, 2012
International disaster relief organization, ShelterBox, has identified families in New Jersey who still remain in need of emergency supplies in the aftermath of Hurricane Sandy and Nor'easter Athena.
ShelterBox responds to disasters such as earthquake, volcano, flood, hurricane, cyclone, tsunami or conflict, by delivering boxes of aid, including disaster relief tents, water filtration systems, cook-stoves, blankets and other tools that help families survive and rebuild their lives in the aftermath of disaster.
Over the last couple weeks, ShelterBox has been working in New York and the surrounding areas and has delivered hundreds of blankets to families in need.
In Monmouth, N.J., as many as 600 families are still displaced. Many of them will be relocating to the former military base, Fort Monmouth.
"Due to ongoing displacement of families and the winter weather conditions, we have identified a need for more blankets and other equipment," said ShelterBox USA president, Emily Sperling. "Our team continues to assess the needs of vulnerable families in the area, and respond accordingly."
ShelterBox Response Team (SRT) member, Mike Freeman, is in New Jersey today, working with partners and other agencies to deliver the blankets and identify other unmet needs.
ShelterBox is also responding to the aftermath of Hurricane Sandy in Haiti and Cuba, the Syrian refugee crisis in Iraq, extensive flooding and ongoing conflict in the Sahel region of West Africa, and flooding in Nigeria and Senegal, and is monitoring the need for aid following two earthquakes in Guatemala.
ABOUT SHELTERBOX USA
Since 2000, ShelterBox has provided shelter, warmth and dignity following more than 180 disasters in over 80 countries. ShelterBox instantly responds to earthquake, volcano, flood, hurricane, cyclone, tsunami or conflict by delivering boxes of aid. Each iconic green ShelterBox contains a disaster relief tent for an extended family, stove, blankets and water filtration system, among other tools for survival. ShelterBox's American affiliate, ShelterBox USA is headquartered in Sarasota, Florida. Individual tax-deductible donations to ShelterBox USA can be made at http://www.shelterboxusa.org, 941-907-6036 or via text message by sending SHELTER to 20222 for a one-time $10 donation.