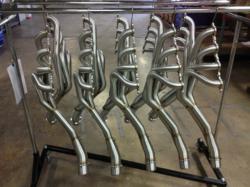 Marietta, GA (PRWEB) November 16, 2012
Pfadt Race Engineering has developed an all new Pfadt Corvette C6 Tri-Y header that will be available from Southern Car Parts on 11/16/2012. The new Pfadt Corvette Tri-Y Header is made of brushed 16 Gauge stainless steel with a true 4-2-1 tube merging design. The new Corvette 1 3/4" x 2" headers are hand-TIG welded with a 3" collector and X Pipe with options to include catalytic converters or without catalytic converters. They are also designed and made 100% in the USA. In addition to the base model Corvette, Pfadt is also offering via Southern Car Parts a Pfadt Tri-Y Header for the Corvette Z06/ZR1. The internet has been ablaze with anticipation regarding the new headers as initial reports show a level of quality and performance gains for the Corvette that is going drive very strong demand among Corvette performance enthusiasts.
Southern Car Parts has been selected as one of the exclusive Pfadt Dealers that will offering the new Tri-Y Corvette Headers at initial launch (11/16/2012) and will continue to offer them as an official Pfadt dealer going forward.
For more than seven years Southern Car Parts has been developing a strong reputation and following in the performance automotive market and has expanded from only dealing with Corvette Parts and Accessories to also incorporating the Chevrolet Camaro, Dodge Challenger, Ford Mustang, Nissan 350Z and 370Z, and Nissan GT-R into their product line as well. In that time they've reached a wide and loyal consumer base who returns to them for their shopping needs as result of SCP's dedication to top-notch and expedient customer service and discounted pricing structure. The new Pfadt Tri-Y Corvette Headers will be an exciting addition to Southern Car Parts Corvette parts and accessories catalog.