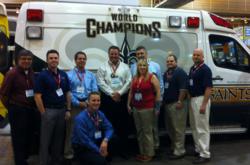 We were eager to show everyone the services and products of our six divisions.
Lafayette, LA (PRWEB) November 15, 2012
Acadian participated in the EMS World Expo, North America's largest EMS event, from Oct. 29-Nov. 2, at the Ernest N. Morial Convention Center in New Orleans, La.
Leaders of the EMS industry came together during this annual, week-long conference to discuss important issues facing the industry, and to participate in numerous informational panels and workshops. The best medical professionals in the EMS field direct topics ranging from health care reform to advances in medical technology to educational and training sessions for EMS professionals.
Acadian, as the largest privately-owned ambulance service in the nation, had a prominent role in this years' EMS World Expo, the first held in New Orleans since 2005.
"Our primary focus was to gain more exposure," said Brian Cowart, Human Resources Recruiter for Acadian Ambulance. "This was the first time that the EMS World Expo has been in Louisiana since Hurricane Katrina, which was in 2005, and Acadian has grown exponentially since then. We were eager to show everyone the services and products of our six divisions."
Four Acadian employees spoke at this year's event: Acadian's National EMS Academy (NEMSA) Developmental Editor Chris Mixon, NEMSA Education Coordinator Chris Ebright, Acadian Paramedic Kelly Grayson, and NEMSA Continuing Education Manager Richard Belle.
Belle hosted the "EMS Instructors: Creating the Future of our Profession" panel, which discussed how EMS instructors can influence the future of the profession by ensuring that future EMS students are adequately trained.
Grayson's panel, "Show a Little Restraint: Dealing with the Combative Patient," trained its participants on how to safely restrain a patient who is dangerous to themselves or others. Ebright's presentation, "The Miracle of Life…Almost," discussed pre-hospital, emergency deliveries, including how to react in the instance of a complicated birth, while his "Status Asthmaticus in Children" panel focused on the rising mortality rate of American children from asthma complications and teaches EMS professionals how to quickly respond to a child in respiratory failure.
Ebright also taught the "Pediatric Sepsis" panel, which trained EMS professionals to identify the early symptoms of a systemic infection, a potentially life-threatening event affecting those who care for newborns and children. Mixon also hosted a panel, "Low-Cost Web Conferencing for EMS Educators," which identified low-cost methods for providing an educational session to a distributed audience.
The Expo's exhibition hall displayed the best that EMS companies around the U.S. had to offer. Each of Acadian's six divisions exhibited their unique products and services as well as offered a recruiter to answer questions.
"We are always looking to employ quality people in all of our capacities," said Cowart.
Since 1971, Acadian has been committed to providing the highest level of emergency medical care and transportation possible. In the past decade, it has expanded to include a diverse suite of services designed to offer the very best support and education in health, safety, and transportation. Acadian's six divisions are Acadian Ambulance Service, Acadian Monitoring Services, Air Med, Executive Aircraft Charter Service, National EMS Academy, and Safety Management Systems.
###