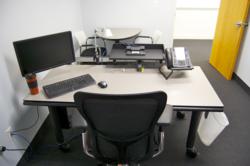 Everything here is pre-owned but it's very difficult to tell and we are very happy with the way everything turned out.
King of Prussia, PA (PRWEB) November 16, 2012
Offices of the future are beginning to evolve. They are becoming more mobile, more ergonomic and colorful. Gone are the neutral colors, one stationary monitor and fixed surroundings. Workstations of the future are equipped with monitor arms, adjustable height and mobile work surfaces, plug-and-play abilities, keyboard trays, and more. Employers are beginning to focus more on employee efficiency and health in regards to their business' office furniture.
NextGEN Security, a supplier of security products, access controls, and video surveillance equipment, understands the importance of efficient and ergonomic office furniture. They also realize the value in purchasing used office furniture in the current economic environment, which is why they turned to EthoSource, a used office furniture supplier, to help outfit their offices in King of Prussia, PA and San Antonio, TX.
EthoSource, a nationwide office furniture liquidator, handles high-end office furniture from all across the US. Many times, the furniture is in like-new condition or has very minimal wear and tear. This provides a great opportunity for businesses to purchase quality office furniture at a fraction of the price compared to new.
With employee productivity and cost savings at the forefront, EthoSource was able to deliver exactly what NextGEN was looking for. NextGEN's new offices were outfitted with pre-owned Vitra office desks, which are the epitome of office efficiency. "The quality of the desks and all of the accessories are fantastic. We really like the desks because they are an all in one encompassing product where we have lighting, computer stations, monitor arms, everything in one. In addition to that we really like that everything is mobile, so we can change and move things without a lot of difficulty." Frank Brewer, CEO of NextGEN, explained.
Brewer also enjoyed that all of the office furniture they purchased is pre-owned. "In the economic environment we were looking to buy pre-owned furniture because we thought that would be a good way to go. We've been very happy with the quality of what we see. Everything here is pre-owned but it's very difficult to tell and we are very happy with the way everything turned out."
Along with purchasing pre-owned Vitra desks, NextGEN received pre-owned Haworth Zody task chairs, Vitra conference tables, and Knoll Brno chairs.
Brewer, with a new, efficient and aesthetically pleasing office is pleased with the outcome of the office furniture project and the job EthoSource has done. "I would recommend EthoSource to others especially with the state of the economy. There is an abundance of pre-owned furniture in the market and I think EthoSource knows how to find quality product and deliver it to their customers."