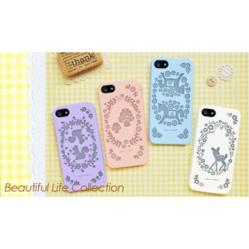 The Minisuit Femme series embraces the art of living through the pursuit of a beautiful life.
New York City, NY (PRWEB) November 19, 2012
Noted electronic accessories distributors Minisuit have just added yet another product line to their highly impressive collection of accessories. Femme De Pivot, the new range of designer iPhone 5 cases, has been crated with the utmost care to suit the requirements of the ladies. The internationally recognized distributors are well known in the industry for providing unlimited options and state of the art designs for the style conscious users of the present era. The awe inspiring range of products available at the store includes some of the finest accessories available in the market for tablet, cell phones, e-reader, MP3 player, GPS devices, laptop, camera, gaming devices, and much more.
Amongst all products available under the new product line, the shining romance collection deserves special mention. The cute iPhone 5 cases are available in 4 gorgeous designs with names that are carefully chosen to be comely roses (pink), classic elegance (white), charming lady (green), and secret garden (black). The first three have a shining silver pattern design creating a mirror effect. Whereas, the last one, is designed to create a champagne gold metallic effect. The package consists of a high quality screen protector to provide added protection to the gadgets. All Femme De Pivot iPhone cases also come with a free iPhone app for downloading matching wallpapers for the ladies from the app store.
Official sources have revealed that the launch of these beautifully crafted iPhone accessories is the result of months of research, study, and test. During the launch of the new product line, a visibly satisfied spokesperson from the company said, "We are excited to announce the launch of our latest Femme De Pivot collection. The Minisuit Femme series embraces the art of living through the pursuit of a beautiful life. This product line is an amazing combination of elegant style, durability, and convenience. Visit our website today to take a look at the top of the line iPhone 5 cases". He also added that the company is presently working on several new product lines that would be launched very soon.
About the Company: Minisuit is the largest and the most preferred distributor across the globe for a wide range off electronic accessories. The company has just announced the launch of Femme De Pivot, an amazing collection of designer iPhone 5 cases that have been designed specifically for the ladies.