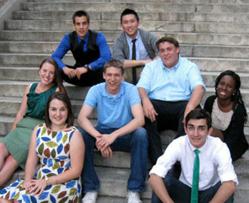 Lynchburg, Va. (PRWEB) November 15, 2012
Liberty University's Forensics team won several first-place honors at a two-day competition held at the University of Pennsylvania, Nov. 10-11.
Overall, the team earned second place out of all schools attending, including George Mason University, West Chester University, Cedar Crest College, James Madison University, Binghamton University, Drexel University, and Haverford College.
Individual overall honors went to team captain Josh Wade who took third place in cumulative points, out of more than 100 competitors at the Sunday competition. Kenny Lau won second place in overall points.
On the first day of competition, first-place honors went to: Wade for after dinner speaking; the team of Wade and Laurin Elliott, duo interpretation; Lau, informative speaking and poetry interpretation; and Shadrach Hicks, dramatic interpretation. Whitney Rutherford won second place in impromptu speaking and fourth in persuasive speaking. Yemisi Egbewole won third place in after dinner speaking and third in dramatic interpretation.
Sunday's competition was hosted by the Northern Atlantic Forensics Union. Wade and Elliott again placed first in duo interpretation; Egbewole won first place in dramatic interpretation; and Lau took first in informative speaking as well as first place in prose interpretation. Wade won second place in program oral interpretation and third in impromptu speaking. Hicks won second place in dramatic interpretation, and Rutherford won second place in persuasive speaking.
With the success of last weekend's tournament, the fourth and final tournament for the fall semester, six members have qualified for national competition in April 2013.
Liberty University, located in Lynchburg, Va., is the world's largest Christian university. Nearly 100,000 students attend classes on its 6,800-acre residential campus and study in its thriving online education program.