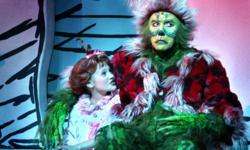 (PRWEB) November 18, 2012
The Grinch is back with a vengeance. Despite his best efforts to pilfer the presents and sabotage the happiness of the Holidays – ticket sales to see him smirk, snarl and steal get more festive each year.
Based on the 1957 classic written and illustrated by Dr. Seuss, the musical debuted in 1994 after special arrangements were made with the author's estate to exclusively adapt and perform the book. Timothy Mason wrote the adaptation and lyrics, while Mel Marvin penned the original score and John DeLuca contributed the choreography. The production opened at the Minneapolis Children's Theatre Company in November, and was remounted again in 1995 and 1998, playing to sold-out houses every time.
This year's tour includes over 100 performances, starting with a two-night show in Bloomington, Indiana in mid-November. Productions will run in both Boston and Hartford throughout November, with December stints in Richmond, Chicago, New York and Detroit. The final performance is set for the Detroit Opera House on December 30, 2012.
"The audience for How The Grinch Stole Christmas grows each year, partially due to the many generations who can enjoy this classic tale together as a family," said Felina Martinez at online ticket marketplace BuyAnySeat.com. "While it is not surprising that we're seeing a major spike in online traffic for How The Grinch Stole Christmas tickets, we're proud to be able to offer fans and their families a complete selection of discount How The Grinch Stole Christmas tickets, with a worry-free guarantee to protect their purchase," said Martinez.
"In fact, we still have a great selection of inexpensive How The Grinch Stole Christmas tickets now available on our site," said Martinez. "To access the complete selection of discount How The Grinch Stole Christmas tickets we now have available, customers can go to BuyAnySeat.com and search for How The Grinch Stole Christmas – then select their tickets," said Martinez.
Ironically, while the original story by Dr. Seuss criticizes the commercialization of Christmas, the book and its movie and musical adaptations have all become commercial successes themselves. In fact, based on a 2007 online poll, the National Education Association named the book one of its "Teachers' Top 100 Books for Children". Plus, based on a 2012 poll, the School Library Journal called the children's classic one of the "Top 100 Picture Books" of all time.
At the same time, the tale has materialized through two films: the animated How The Grinch Stole Christmas in 1966 and the Academy Award-winning film How The Grinch Stole Christmas in 2000, starring Jim Carrey as the Grinch and Taylor Momsen as Cindy Lou Who.
The musical debuted on Broadway in 2006, and was Broadway's first musical to offer 12 performances a week to keep up with the outpouring of demand from fans. The Grinch then went on to break box office attendance records for two consecutive years on Broadway during limited holiday engagements at the Hilton and St. James theatres in New York.
In 2010, after the well-received 2009 Los Angeles production, a national tour ran in the cities of Omaha, Houston, Dallas, Tempe and Toronto. In 2011, the national tour played Providence, Pittsburgh, Atlanta, St. Louis and San Francisco. With a wealth of sold-out performances and year-over-year attendance increases under his belt, it's no wonder that the Grinch is heading out from his cave atop Mount Crumpit again to irritate and inspire audiences of all ages.
To shop for cheap How The Grinch Stole Christmas tickets, visit BuyAnySeat.com.
About BuyAnySeat.com: An online ticket marketplace, BuyAnySeat.com connects sports, theater and other live entertainment fans to an extensive worldwide network of ticket sellers. The site's simplified listings and navigational tools enable fans to easily locate, compare and purchase inexpensive, discounted or lower-priced tickets to virtually all advertised sports and entertainment events around the globe. The site, which is PCI-compliant and Norton Secured, also provides customers with a complete Worry-Free Guarantee on all ticket purchases. Based in Denver, Colorado, BuyAnySeat.com is a subsidiary of Denver Media Holdings. For more information, please visit http://buyanyseat.com.