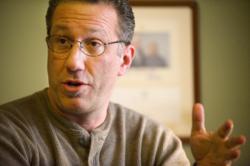 Charitable Checkout is game changing. It empowers our clients to easily partner with their fans to make a positive impact while motivating brands to provide incentives by linking their costs to results.
New York, NY (PRWEB) November 16, 2012
Branded Giving is here.
Can you imagine a web page or magazine without advertising? How about an entertainment or sporting event without sponsors? Americans give over $200 billion a year to charity. Dympol views the millions of underlying charitable transactions as a comparable blank space, representing a huge and untapped branding opportunity.
Just as advertising and sponsorship supports virtually every type of media and event, Charitable Checkout, Dympol's new incentive-based marketing platform is expected by many to convert this actual giving into a branded activity offering meaningful benefits to all.
While brands have been getting involved in cause-related efforts for years, they usually pursue the "buy our product and we'll make a donation" approach. The Charitable Checkout platform turns this model upside down in order to align the interests of various stakeholders and help companies convert their corporate social responsibility efforts from a pure expense, to a measurable profit.
Accordingly, Dympol's progressive profit structure is based on partnering with brands and retailers and offering them engaging exposure and measurable results—the more business Dympol drives their way, the more both companies benefit. The platform is free for celebrities and Dympol doesn't deduct proceeds from the donation pot. Through an innovative platform featuring robust social media components, Charitable Checkout makes giving back, profitable for everyone.
Here is how it works: When people give to celebrity or brand-endorsed causes, they get brand-sponsored rewards and are publicly thanked in social media. Platform functionality can be accessed via Web or Facebook Pages, e-Commerce Checkouts, Mobile Devices, Ad Units, or Text Message. The platform's social suite includes 'Giving Squads' which enables socially-connected clusters of friends to compete for prizes by generating the greatest social and/or charitable impact. Charitable Checkout tracks who gives and how much, donors' preferred causes and brands, and their influence across the social graph. The data collected simultaneously powers the Giving Squads social contesting feature and provides Dympol's customers with actionable consumer insights.
Currently, over 500 music artists and other 'Influencers' have created their own Charitable Checkout campaigns. Participating artists range from up-and-coming indie bands to such diverse and established artists as Switchfoot and The Crystal Method. New campaigns are expected shortly from Sarah McLachlan and Christina Perri, and the company has just signed a deal to launch a major campaign for Shakira, one of the world's most influential celebrities.
Shakira's campaign, launching in just a few weeks, will benefit her Barefoot Foundation. In addition to utilizing Dympol's core cause marketing functionality and Giving Squads competition (winners get a meet-and-greet with Shakira and other prizes), the company will also be debuting a new feature: A photo mosaic consisting of the profile pictures of fans that donate. The final image will be a rendering of the school that will be built with the proceeds of the campaign.
The company has also recently launched successful campaigns for The United Way's "Bridge Walk Social" (with prizes provided by Macy's) and HGTV's "Raise A Roof College Challenge" which pits rival schools Ohio State and University Of Michigan.
Dympol's spirited innovations were recently spotlighted in a New York Times profile and praised by The Cassandra Report Daily—a beacon periodical operated by The Intelligence Group/CAA that tracks youth trends, attitudes and consumption—who described Charitable Checkout as a "cause marketing platform that's altering the face of charitable giving." Dympol Founder & CEO Jay Ziskrout recently spoke at The Cassandra Report's annual youth consumer seminar Trend School. Charitable Checkout has also been praised by many of the most influential talent agencies and management firms, including the previously mentioned CAA as well as William Morris Endeavor (WME). In the words of WME's Marc Geiger: "Charitable Checkout is game changing. It empowers our clients to easily partner with their fans to make a positive impact while motivating brands to provide incentives by linking their costs to results."
About Jay Ziskrout
Jay Ziskrout is Dympol's Founder & CEO. Prior to launching Dympol and Charitable Checkout, he served as Chief Operating Officer of The CMJ Network, producer of the CMJ Music Marathon and FilmFest, and publisher of market data and music-related content via print and online channels. In 1999, Jay founded LatinoVision.com (and the companion label Grita! Records) targeting the US and international Latino and Hispanic markets. It was one of the first destination sites to offer musicians a free place to promote their careers and sell their music online. Prior to that, he launched Netherlands-based Epitaph Europe as Managing Director (breaking such acts as The Offspring and Rancid) and served as Vice President of Promotion for Arista Records/BMG. As a musician (drummer), Jay co-founded the '80s punk band, Bad Religion, and the psychedelic rock band Electric Peace.
About Tammo Mueller
Tammo Mueller is Dympol's Co-Founder & CTO. He is an entrepreneurial software engineer with extensive experience managing the development lifecycle of large-scale information systems, most recently as CTO of IKaru USA. He co-founded IKEWIKI and established its software development HQ in India. At Siemens Healthcare, Tammo managed collaborations in personalized medicine with leading healthcare providers in the US and abroad. M.S. in Computer Science from University of Muenster.