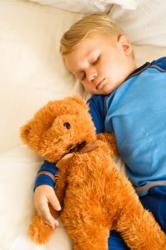 I am thankful that even in this challenging economy, families see sleep as a great investment.
Chicago, IL (PRWEB) November 16, 2012
Sleep Training Solutions, a leading professional infant and toddler child sleep consulting company, celebrates a successful first year in business and announces special promotion for families nationwide to celebrate the anniversary milestone. "This has been a fantastic year helping over 150 families in Chicago and around the country get better sleep," said Kim Schaf, M.A.T., Founder and President of Sleep Training Solutions. "I am thankful that even in this challenging economy, families see sleep as a great investment."
Sleep Training Solutions has expanded considerably over the past 12 months, adding overnight (and half-night) support, help for parents of twins, prenatal and newborn packages, and Mom's Night In parties, in addition to the private consultations and group seminars originally offered. The packages themselves have evolved based on client needs, with the addition of ample follow up support and Schaf's 28-page Frequently Asked Questions Guide. Schaf also now regularly speaks to parents at pediatrician offices and preschools on ways to develop healthy sleep habits.
Future plans for the company include working with major organizations to assist with their corporate wellness initiatives as well as community outreach to help new parents teach their babies healthy sleep skills from the beginning. "I do offer a Newborn package to help parents get off to a great start," said Schaf. "I'm also developing a prenatal class on infant sleep that will be very beneficial to new parents so they can avoid common pitfalls from the beginning."
Since founding the company one year ago, Schaf has helped over 150 babies and children in the Chicago area and across the country develop healthier sleep habits and sleep through the night, had over 350 client phone calls and responded to over 1500 emails.
The company was founded in November 2011 by Schaf who had extreme sleep issues with her youngest son. "At 18 months, he was still waking four times each night," said Schaf. "He only slept short amounts at a time, and always being held, never in his crib. We were physically and emotionally exhausted." After researching several methods, Schaf found one that would work for her family and soon after implementing the program, her son was sleeping through the night. "This experience transformed our lives," said Schaf. "It's been such a wonderful experience. I'm thrilled that I made the decision to change careers to become a certified sleep consultant and help other families who are struggling with this issue."
To celebrate this first anniversary milestone, Sleep Training Solutions is offering a special promotion to families nationwide on services booked between November 19-26, 2012. Visit Sleep Training Solutions for the details.
About Sleep Training Solutions
Sleep Training Solutions, a leading infant and child sleep consulting company, provides education and training to parents in the Chicago area and across the country through private and semi-private consultations, seminars and overnight support. Sleep problems that can be resolved include issues with bedtime, nightwakings, naptime and early rising in infants and children up through age eight. Find Sleep Training Solutions on Facebook and follow on Twitter @sleepbetterbaby.
About Kim Schaf
Kim Schaf, M.A.T., is the Founder and President of Sleep Training Solutions and the Midwest Regional Director (USA) for the Association of Professional Sleep Consultants (APSC). After completing an extensive training and mentoring program with one of the world's most respected child sleep authorities, she became a Certified Infant and Child Sleep Consultant and offers expert guidance to resolve behavioral sleep issues for families across the country. She provides community education on child sleep issues, leading workshops at preschools, day care centers, pediatrician offices and new mom groups. She is also available to speak at corporations for their Corporate Wellness Initiatives. Kim has a Master of Arts degree in Teaching, is a Certified Rainbows Facilitator and is a member of the American Sleep Association, the North Suburban Children's Business Network and the Neighborhood Parents Network. She lives in a northern suburb of Chicago with her husband and two small children, both of whom are excellent sleepers.